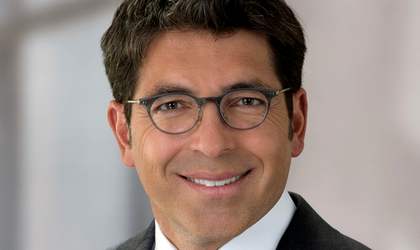 Fred Monteiro, formerly Director of the Central Europe South Area in BAT and General Manager of BAT Romania, has been promoted to the Management Board of BAT as the new Regional Director for Americas & Europe, starting with April 1st, 2023. Fred Monteiro has been based in Bucharest since July 2021, coordinating BAT's business in Romania and six other markets. During his tenure, BAT has become Romania's biggest contributor to the state budget, surpassing the 10 billion RON threshold in total taxes paid in 2021.
Romania continues to play a significant part in BAT, becoming the headquarter and coordination point for BAT's business in 12 other markets in the new area. Jorge Araya will take over the position of BAT Romania General Manager and Director of the newly formed South-Eastern Europe Area. Once all formalities are fulfilled, Jorge and his management team based in Romania will coordinate from Bucharest BAT's business in Romania and 12 countries: Italy, Turkey, Bulgaria, Ukraine Serbia, Albania, Macedonia, Bosnia-Herzegovina, Montenegro, Slovenia, Croatia, and Kosovo.
The move is part of a global strategic review of BAT's regions, business units and global functions. Since the launch of the purpose-led A Better Tomorrow™ strategy in 2020, BAT has made significant progress in building a New Categories consumer base, growing powerful global brands and developing organizational capabilities for the future.
Fred has spent more than 20 years with BAT, most recently as Area Director of Central Europe South, based in Romania. Prior to this role, Fred has held numerous senior leadership positions including Marketing Director, Next Generation Products, Head of Marketing for the Europe Region and General Manager, BAT Japan.
"I am very excited and honored by the new role, which is very complex and challenging, but at the same time fit to our purpose of transformation towards A Better Tomorrow, where we focus on developing and marketing new products, backed by science, that are less harmful* and tailored to meet the preferences of adult consumers. Also, I am very proud of my time spent in Romania, with a fantastic team that in 25 years of local presence, managed to deliver an amazing contribution to the Romanian economy, in terms of exports, employment and contribution to the state budget. I will remain very close to the business in Romania and continue to support the team in reaching our ambitious goals for the future", Fred Monteiro, formerly CES Area Director in BAT and designated Management Board member, said.
Jorge began his career with BAT in Chile in 1995 and over the last 25 years has held a number of progressive senior leadership roles at both the end-market and regional levels within the AmSSA region, including Head of Brands Mexico, Marketing Director Chile, Marketing Director Brazil and Head of Marketing Americas region. Previous to moving to Romania, Jorge was Executive Vice President, Marketing, for Reynolds, being responsible for all U.S. marketing functions, including consumer, trade and digital marketing.
"This is an important step forward in our journey of transformation and I am very honoured to join our team in Romania, where BAT has been present for over 25 years with a remarkable performance. Already with a significant contribution to the local economy, we will continue to invest in our employees, our manufacturing facilities and the science and innovation that are critical for developing our reduced risk* products and fulfil our commitment for A Better Tomorrow", Jorge Araya, the newly appointed BAT Romania GM and SEE Area Director said.