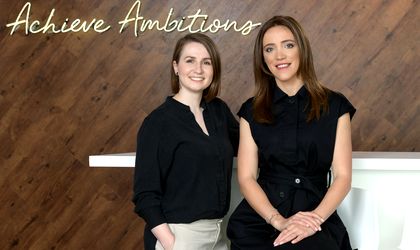 The real estate consulting company JLL expands its range of solutions it offers to the Romanian market, and for this purpose, it completes the local team by bringing Corina Vlădău, as Workplace Strategy Director and Adriana Andrei, as Senior Architect within Tetris Design & Build division.
Together, Corina and Adriana have over 20 years of experience designing and implementing architectural and interior design solutions. Previously, they worked together in companies such as Mobexpert Office, where Adriana coordinated the internal architecture department, and Corina configured and integrated office space management solutions as a senior project manager.
Corina will oversee implementing Workplace Strategy solutions for active companies in Romania, and her arrival completes the areas of expertise that JLL has since almost 15 years on the local market.
In addition to professional experience, her academic training in segments such as interior design, anthropology, or economics will contribute to defining the project implementation strategy from a humanistic, human-centered design perspective. We will explore and capitalize on new solutions to old problems to offer our customers the quality of a defined working environment with an informed and innovative design in which their employees can achieve ambitions and objectives.
Adriana is an OAR member and has over 10 years of experience in space planning and the development of architecture and interior design concepts for office buildings, residential buildings, or commercial spaces.
The projects she coordinated as a lead architect were recognized through awards obtained in the Annual Architecture. Adriana will join the Tetris division in Romania and will collaborate closely with the Project & Management Services, Office, and Workplace Strategy Solutions departments of JLL, the strategy being to have a team with diversified and integrated skills.
Workplace Strategy solutions refer to customized projects for the use of office space according to the needs of employers, but especially of employees so that they are as productive as possible, but at the same time feel safe.
Undoubtedly, the office will continue to play a key role in defining the way people work. The new workspace promotes innovation and collaboration, but also one that gives priority to health, well-being, and flexibility.
Workplace Strategy involves combining all these requirements, starting with the analysis of existing spaces. Based on the analysis, the structure and design are designed to favor collaboration and interaction between colleagues in safe areas. Digital solutions that create productive, interactive, and sustainable spaces are increasingly used. In addition, office furniture is customized to support confidentiality and comfort, to optimize productivity, and at the same time to meet the requirements of health safety.
JLL's Tetris division was launched in 2020 on the Romanian market and completes the range of services we offer in order to meet the requirements and needs of our partners.
Tetris is based on the concept of customized solutions for arranging spaces (turnkey fit-out), whether we are talking about offices, homes, hotels, etc. This concept covers every stage of a fit-out project: consulting, programming, interior design concept, workspace, space planning, cost, hiring subcontractors, administrative procedures, coordination, and reception of works.
"JLL understands the needs of the partners and completes its team with two experienced specialists in architecture and design, and Corina and Adriana come exactly with the skills that the market needs now. Thus, JLL continues to bring new solutions to the real estate market in adopting and implementing the best workspace strategies in the context of current challenges. The workspace is no longer just an office. Now, more than ever, companies have the opportunity to analyze what type of office space they need, based on the percentage of employees who work from home/remote or from an office, and most importantly, what employees need to perform and to feel safe ", said Silviana Petre Badea, Managing Director of JLL Romania.
JLL is the leader of the real estate consulting market in Romania, according to the turnover registered in 2020, and currently has a team of 50 professionals, which offers integrated solutions for all players in the real estate market.