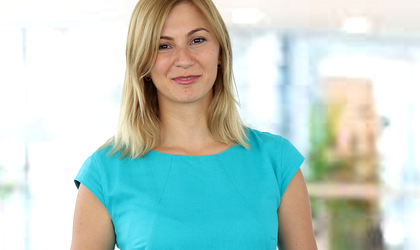 Ioana Ciudin, a professional with 15 years of experience on the Romanian marcomm market, is the new Managing Director of iProspect, a position she took over in August. iProspect is a digital performance agency active on Romanian market and part of the Dentsu Aegis Network Romania.
By Romanita Oprea
Ioana started her career in marcomm in 2003, in the Romanian town of Iasi, and went from marketing assistant to business owner and manager for important Romanian online projects. Her diverse experience and the fact that she launched a top digital agency that posts increases of over 40% a year from scratch are just some of the advantages Ioana brings to her new position and that will help raising the iProspect brand in Romania.
Ioana plans to build, this year, a basis for a strong 2019, with ambitious growth objectives, which aim for a 50 percent increase in the company's turnover.
"I am very interested in getting to know the current projects and to develop a relationship with the existing clients. I believe in the client partnership idea, not in a strict client-provider relationship, and I want to know each and every client. I don't aim to be hands-on on projects, as iProspect is autonomous and I don't want to alter this. I identify with the iProspect brand at communication, values and even color levels. I believe chemistry plays an important role, and the communication with the management of Dentsu Aegis Network has been very normal and familiar from our very first discussions. I had the same feeling afterwards with the team, which brings extra motivation and involvement," said Ioana Ciudin.
"We were very happy to discover that Ioana preserved the entrepreneurial spirit we were looking for, we appreciate and cultivate in all the Dentsu Aegis Network agencies. At global level, Dentsu can be defined as "a network of entrepreneurs", which establishes a certain "state of mind and heart" and allows us to attract and raise extraordinary talents in all group's agencies. We are convinced Ioana will help us raise iProspect and bring it where we aim it to be," added Razvan Varabiescu, CEO Dentsu Aegis Network Romania.
Moreover, at a global level iProspect is a tier one Google partner and a trusted alpha release Facebook partner, something that offers the agency a clear competitive advantage on the market and a series of unique benefits: access to a series of applications with superior capabilities or to information about the market that few companies in Romania have access to. In this favorable context, the new Managing Director aims to consolidate these tight relationships on the local market as well.
iProspect is a global full service performance marketing agency that has among its clients companies like adidas, Diageo, Hilton, Burberry, General Motors, H&M, Procter & Gamble, Gucci and Microsoft. iProspect has a network of 4,300 people in 93 bureaus in 55 countries. Present in Romania since 2015, the agency has a team of 8 people and collaborates with clients from various industries, like Mondelez, Philips, Bonduelle, SuperBet, both locally and at a regional level.