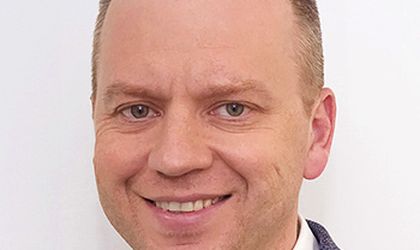 Instant Factoring, the first Romanian online micro-factoring company, is making strategic changes in its organizational structure to strengthen the leadership team to support regional expansion in Central and Eastern Europe. Starting January 25, 2019, Cristian Ionescu, Chairman of the Board of Directors and Co-Founder, took over as the CEO and President of Instant Factoring IFN S.A.
Instant Factoring is planning this year to open two new branches in Central and Eastern Europe to strengthen its regional presence and expand online small business microfinancing operations. In this regard, the company is making a strategic move, designating a CEO for the future Instant Factoring Group, in the person of Cristian Ionescu, Co-Founder and Chairman of the Administration Council. In each of the countries where subsidiaries will be opened, including Romania, a Country Manager will be appointed as the person responsible for conducting local operations and implementing the business plan in line with the objectives set by shareholders and investors.
Cristian Ionescu has more than 15 years of experience in the financial services and business consultancy sector, focusing on risk management services, including factoring, commercial credit insurance, corporate finance, company risk assessment, and business receivables collection. He served Coface for 10 years as CEO for Romania, and later for Central and Eastern Europe. Over the past 6 years, he has been the Country Manager as the local branch of Expense Reduction Analysts, the world leader in cost-conscious services to optimize operating expenses.
"This change is a step forward in our regional enlargement plan that will begin in the coming months by opening a new branch in Croatia and will continue in the second half of the year with another country. At the same time, we are planning to increase the volume of funding in Romania to over EUR 10 million in 2019, an increase of 300 percent over 2018, so we need a solid and capable team to meet these ambitious targets. We want to strengthen our strategic presence in Romania and Central and Eastern Europe and take advantage of the competitive technological advantage that the company has and consolidates at the moment. We will bring together new specialists with international experience in financial operations as well as risk assessment activities to support our regional strategy as well as professionals in lending to small and micro companies in the countries in which we expand," said Cristian Ionescu.

"The process of changing the organizational structure in Romania has already started and we are preparing to announce the name of the Country Manager for Romania soon. I have been looking for a person with extensive experience in factoring, acquired in top financial institutions, in financing SMEs and, most importantly, with a strong entrepreneurial spirit," said Cristian Ionescu.
Instant Factoring facilitates the development of small businesses by providing them with flexible and innovative financing solutions by converting the invoiced bills into cash. The financing decision is taken within an average of 2 hours, due to the advanced technology available to the platform, and within 24 hours the client receives the money in the account. The entire process of risk assessment and operations management is automated and fully online, all being fast and transparent and without requiring additional documents for up to RON 50,000. Overall, Instant Factoring offers online invoices with individual amounts up to EUR 100,000 euro.
So far, the company has provided EUR 3 million in micro-enterprises in Romania with approximately 1,700 grants in the 10 months since it was set up. The average amount of funding for an invoice was approximately EUR 2,100, double the estimated market value, and the rate of underperformance in relation to the current exposure is less than 1.5 percent at the end of 2018.