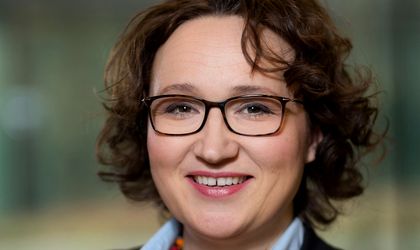 Banca Comerciala Romana will have a new Chief Risk Officer as Ilinka Kajgana will take over the position starting January 1, 2020. Currently in charge of Erste Bank Austria's Strategic Risk Management, she will replace Michael Beitz, who is retiring from his professional activity after more than 30 years at Erste Group.
"We are delighted to welcome Ilinkai Kajgana, a strategic vision manager and relevant risk management manager in Erste Group. I am convinced that her professionalism as well as solid experience will make a significant contribution to the development and consolidation of the bank," said Sergiu Manea, CEO of BCR.

"We are also grateful to Michael Beitz for how we worked together during the BCR's transformation and development process. Michael has capitalized all his experience for the solid balance sheet and strong financial position of today's BCR in which he dedicated himself to BCR," added Manea.
With extensive banking and sound risk management experience, Ilinka Kajgana heads Erste Bank Austria's Strategic Risk Management Department from January 2017, having held several senior management positions within Erste Group. Born in Croatia, Ilinka Kajgana holds a doctorate in Physics at the University of Technology in Vienna and started her career at the General Hospital in Vienna, where she researched and documented the field of cardio-thoracic surgery.
The appointment of Ilinka Kajgana in the Executive Committee of BCR is subject to the approval of the competent supervisory authorities.