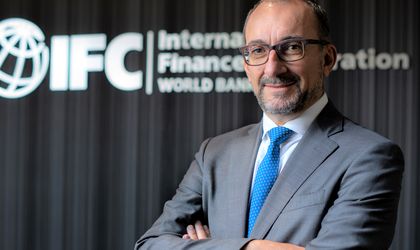 The International Finance Corporation (IFC), a member of the World Bank Group, has appointed Ary Naïm as its Regional Manager for Central and Southeast Europe, based in Belgrade, and overseeing operations in Albania, Bosnia and Herzegovina, Bulgaria, Croatia, Slovenia, Kosovo, Montenegro, North Macedonia, Poland, Romania and Serbia.
Naïm is taking over the position from Thomas Lubeck, who was recently appointed as Manager for Transaction Advisory Services Public-Private Partnerships in Asia and Pacific, based in Singapore.
A French national and a former banker, Ary Naïm has been with IFC for 17 years. He joined IFC in 2003 in Morocco as Access to Finance Specialist, then moved in 2005 to Washington as part of IFC's Financial Institutions Group, where he actively contributed to IFC's global thought leadership in SME Banking and Leasing. In 2010 he took the role of Country Head for the Dominican Republic and Haiti, leading IFC's reconstruction efforts after the 2010 earthquake and rolling out innovative investment, advisory, and treasury initiatives in both countries. For the past six years, Ary Naïm has been the Country Manager for IFC in Mexico, overseeing a significant ramp-up of IFC annual commitments across sectors and establishing a strong franchise in the country. Ary Naim is an engineer in Computer Sciences, with a master's degree in Artificial Intelligence.
Announcing his appointment, Wiebke Schloemer, IFC Director for Europe and Central Asia, said: "Ary brings global experience to Central and Southeast Europe. Through his leadership, we look forward to building on our successes in the region, serving our clients, and creating new markets and opportunities where they are needed most."
"As they slowly start exiting the current COVID-19 crisis with severely constrained public finances, countries have to restart their economies and recreate lost jobs. Never has it been so important and urgent to attract fresh private investment," said Ary Naïm. "The good news is that Central and Southeast Europe countries are well placed to leverage the digital economy, the upcoming regionalization of key global value chains, and the need for a more sustainable and inclusive growth going forward. To achieve this, the region must improve its business environment, establish new public private partnerships, embrace technological disruption, and create new markets. IFC is committed and uniquely positioned to help governments and businesses along this path."
As of January 2020, IFC's committed investment portfolio in Central and Southeast Europe stood at $2.6 billion across a broad range of sectors, including financial markets, infrastructure, information and communication technology, manufacturing, services, and education. This figure includes $575 million mobilized from partner institutions.