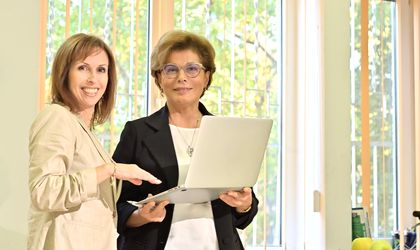 EXEC-EDU, leader of the executive education market, the top segment of the training market, announces the appointment of Mrs. Oana Scarlat as CEO of the company, starting June 1st.
Oana Scarlat joined exec-EDU 17 years ago. She initially coordinated the business operations, and in recent years she led the marketing and sales department. In this role, she collaborated with clients from the various industries, for which she designed, launched and promoted many successful training programs.
Oana Scarlat also has 6 years of experience in delivering training and coaching sessions with a focus on developing empathy and emotional intelligence, self-development, conflict prevention and relationship skills. She has a bachelor degree from the Faculty of Letters Bucharest and graduated from development programs at EXEC-EDU, BLED School of Management (Slovenia), and Kutschera Institut (Austria).
"The current social and economic context as well as the industry transformation, along with the trust from the Board, make my new mission a very challenging one. I thank Lavinia Rașcă, who is not only the leader of the organization, but also a mentor for me, for this opportunity. With the changes generated by the pandemic, EXEC-EDU has entered a new stage of development, focusing on diversifying the portfolio of courses for top management. In a year defined by a health crisis, EXEC-EDU dominated the training market for managers. After last year's extremely rapid transformations, which brought us an increase in the number of participants, we now aim to strengthen our position – the company is currently, according to the latest financial data, in third place in the training market. At the same time, we remain consistent with our mission to address the development needs of managers and entrepreneurs", declares Oana Scarlat.
Digitalisation remains an important component for EXEC-EDU in strengthening its market position, both from the point of view of the new digital tools and methods used in the courses and also in terms of the continuous development of the experts' skills.
Another priority of the new CEO is  recruiting more experts, as a result of the trainings portfolio development, new market requirements and the increased number of participants from other cities and from abroad. EXEC-EDU currently has more than 40 experts, trained at Harvard, IESE, Wharton, INSEAD, with international certifications, who perfectly master the latest delivery methods, in class or live, online.
Oana Scarlat takes on the role of CEO from Mrs. Lavinia Rașcă, who will continue to strategically coordinate EXEC-EDU as Board Director.
"I have been serving managers and entrepreneurs who want to become more performant, for more than 25 years. Together with my wonderful team, top experts who share values like passion, performance, progress, partnership, we created EXEC-EDU, a strong, loved and respected company, recommended by the exceptional results of our graduates. EXEC-EDU will be at the forefront of management skills development in Romania and the region, the catalyst for digitisation and agile, innovative, human leadership, which are essential in the VUCA world we live in. I have full confidence that the new CEO of EXEC-EDU, Oana Scarlat, who has long been besides me, and her young but mature team, will carry out this bold dream. I feel extremely lucky to be able to pass the floor to this warm person who is at at the same time skillful and strong! A new leader for new times!", declares Lavinia Rașcă, Board Director of EXEC-EDU.
The EXEC-EDU portfolio currently includes about 70 programmes, and the offer is structured on 4 main lines of activity: C-level programs, management programs, professional courses in highly specialized fields and well-being workshops. The 4 directions include not only training programs, but also coaching, mentoring, consulting.