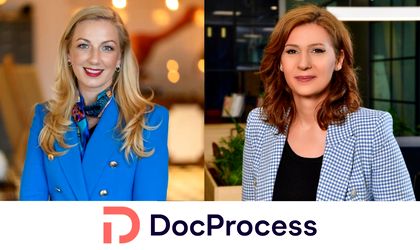 DocProcess, the leader in business process automation in Romania, announces the consolidation of the sales and marketing departments following the appointment of two executives with experience in top technology companies. Andreea Anton was appointed Sales Director and Ștefania Ivanciu was appointed Marketing Director. Andreea will be responsible for developing business relationships with clients and potential clients in Romania, and Stefania for coordinating end-to-end marketing strategy and increasing the company's market share at the local level.
"Since the entry of the private equity fund Morphosis Capital into our shareholding, DocProcess has entered a new stage of development. We want to expand internationally at a fast pace, but at the same time to consolidate our position as a leader in business processes automation in Romania. To achieve this goal, we need to build and strengthen our sales and marketing departments, key pillars in this consolidation process. Andreea and Stefania possess remarkable expertise in their fields of activity, having over 16 years of professional experience in global technology companies. They will support us in shaping the strategy and operations of DocProcess so that clients and potential clients can benefit from the best services," stated Daniela Apolozan, CEO of DocProcess Romania.
Andreea Anton, the new Sales Director for the Romanian market, has over 18 years of experience at Vodafone Romania. At DocProcess, Andreea will be responsible for developing business relationships with clients and potential clients in Romania by reshaping the local sales strategy. Throughout her career, Andreea has worked with hundreds of clients in Romania, but also with companies present on international markets, being recognized for her dynamic and results-oriented approach.
"I am thrilled to join DocProcess's team, and I am even more excited about the continuous innovations the company is bringing in the business process automation field to thousands of clients. I look forward to bring my contribution towards the continuous growth of the company, our clients and partners," stated Andreea Anton, newly appointed Sales Director at DocProcess.
Stefania Ivanciu, appointed Marketing Director for the Romanian market, has over 16 years of experience in various local and regional marketing roles for top technology companies such as Oracle and IBM. At DocProcess, Stefania will be responsible for developing the end-to-end marketing strategy and increasing the company's market share at the national level by building partnerships and supporting sales teams in achieving the proposed objectives. Thanks to the close collaboration with a multitude of international agencies, partners and clients and the implementation of successful marketing strategies within the companies in which she worked, Stefania is recognized for the ease with which she builds, communicates and coordinates different teams.
"I am delighted to join the company in this phase of its transformation journey. I am looking forward to helping the business continue to reach a new client base and consolidate the existing one. It is impressive that I can tell the story of DocProcess having by my side a visionary team, dedicated to clients and the continuous development of the company," stated Ștefania Ivanciu, newly appointed Marketing Director of DocProcess.
In September 2019, DocProcess announced the entry into its shareholding of the private equity fund, Morphosis Capital. Since then, the company has gone and continues to go through the business transformation process, focusing in particular on expanding its services globally. In April 2020, DocProcess opened a commercial office in Paris, France, considering the favorable context provided by the publication of the Loi de Finances 2020, according to which by 2025, all business-to-business invoices must be issued in electronic format. In April 2021, the company opened a commercial office in the US, in Austin, Texas and appointed Salim Sunderji as the group CEO. Salim Sunderji is responsible for developing global partnerships and expanding DocProcess services in the United States, the United Kingdom, the Middle East and India.
"It brings us an enormous satisfaction that Andreea and Stefania, who have top experience gained in multinational technology companies, joined the DocProcess team in the company's development journey. Bringing talent of this caliber in the team is proof of DocProcess' credibility in the market, and we are confident that they will lead the company to outstanding results," stated Simona Gemeneanu, cofounder Morphosis Capital
The automation solutions provided by DocProcess through its Business Ecosystem Automation platform help companies save hundreds of hours each month in processing invoices and reducing document error rates by up to 0.1%. Depending on the structure of the financial team, between 30% and 90% of employees who before the implementation of the DocProcess solution were dedicated to repetitive manual tasks were redirected to value-added activities such as data mining, analysis, managing complex transactions or improving existing processes.
Over 3,500 companies that have implemented the DocProcess platform have been integrated and interact 100% digitally with their ecosystem from day one. The clients of DocProcess autonomation solutions include multinationals such as Carrefour, Cora, Lactalis, Mondelez, Strauss, E-mag, as well as Romanian entrepreneurial companies such as E-Boda, Altex and Flanco.