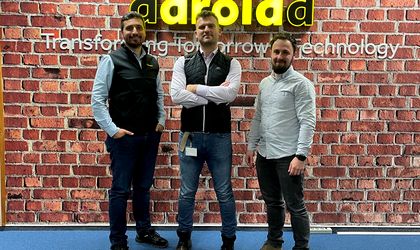 Digital transformation and technical specialist, ddroidd, has appointed two senior experts to strengthen the leadership team and support company growth. Cosmin Cristea joins as Delivery Director and Andrei Avram as Technical Director. Both will form part of the senior management team (SMT) and have an important role in the future development and growth of ddroidd.
With more than 20 years' experience, Cosmin has worked in both technical and management roles, including almost 15 years at Endava in various positions across the business. As Delivery Director, Cosmin will have a global overview of delivery and establish new processes, where required, to ensure consistent quality is maintained across all projects as the company scales. He will also be responsible for the growth and development of the team. Working with the SMT, Cosmin will have a focus on new business and supporting commercial relationships.
Cosmin said: "ddroidd has a dynamic and innovative approach to digital transformation. It is big enough to be seen as a serious player within the industry, working with some exciting clients, but small enough to provide flexibility and freedom to introduce new ideas and ensure everyone has a voice."
Andrei has a diverse technical background with 10 years' experience working for a range of companies of varying size from start-ups to large global companies. He will lead, develop and grow the technical team at ddroidd. As part of Andrei's role, he will be continually looking forward at where technology is going to ensure ddroidd stays ahead as the industry evolves.
Andrei said: "What ddroidd has achieved in its first year is just incredible, particularly during a difficult time. I'm excited to be part of a fast-growing company and seeing what we can achieve together. ddroidd has built a team of high-quality experts and I'm delighted to be surrounded by people with the same passion for technology as me."
ddroidd recently exceeded its first year £3m turnover target and has ambitious plans to hit £5m turnover in its second year through new clients, partners and projects. As a team of 100 experts, the company aims to double in size, taking headcount to 200. In addition to increasing its technology stack and technical certifications, ddroidd also has plans to open two new delivery centres in Romania.
Catalin Stancel, Co-founder and CEO of ddroidd, said: "After a successful first year, we start 2022 in a really positive position with a clear focus on our objectives and plan for the year ahead. Both Andrei and Cosmin have proven skills and experience in their respective fields and will further strengthen our growing team of exceptional technical experts. The two senior appointments form a crucial part of our plan and will be key in supporting our growth and ongoing development to deliver outstanding results for clients."
ddroidd specialises in designing, developing and integrating enterprise-grade digital experience platforms for the most complex of online markets. Specialists in agile digital transformation, ddroidd's approach to custom development and CMS platform implementation, enhancement and support, has seen it build and manage the websites for some of the world's biggest brands.