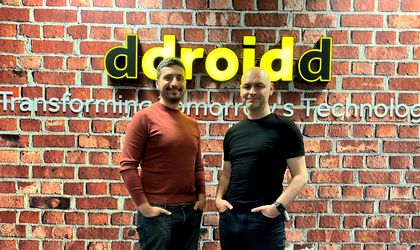 Global technical services provider, ddroidd, has appointed Petroniu Marza as Delivery Unit Manager to oversee, develop and grow its Cluj-Napoca office.
Petroniu, who has more than 20 years' experience across technical project management, engineering, training and development, will be responsible for overseeing the quality, delivery and growth of the Cluj team.
ddroidd employs 130 people across its Cluj, lasi and UK offices, delivering digital projects for some of the world's biggest brands. The fast-growing, ambitious company has scaled its team, clients and industry presence since it was established in 2020.
Petroniu said: "I was looking for an organisation that had potential to be big but in a dynamic way and encouraged creativity by doing things differently. And that's exactly why I'm excited to join ddroidd. The company's vision and approach are innovative and refreshing for our industry. ddroidd promises possibilities to do things differently, and opportunities to make a difference."
With a passion for training and developing people, Petroniu is looking forward to working with the team to enhance their skills and build on their strengths.
The company has won several awards globally for its growth and success, as well as its pioneering A+++ framework that provides a benchmark for businesses to reduce the carbon footprint of their digital platforms.
Catalin Stancel, CEO of ddroidd, said: "At ddroidd we want to bring together the greatest minds to really make a difference to the digital landscape. We don't just do things because that's the way it's always been done, we encourage freedom, creativity and out of the box thinking to create new, better ways of working. This is exactly how our A+++ framework was developed by rethinking what's possible.

"Our shared vision has ensured our continued growth and plan to be the employer of choice within Romania. Petroniu has some exceptional experience and we're looking forward to having him on board as a key member of the Cluj team."
ddroidd specialises in designing, developing and integrating enterprise-grade digital experience platforms for the most complex of online markets. Experts in agile digital transformation, complex software development, and application management, ddroidd's approach to custom development and CMS platform implementation, enhancement and support, has seen it build and manage the websites for some of the world's biggest brands.