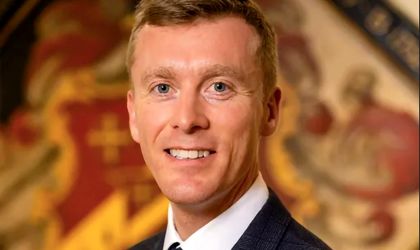 Spark School is pleased to announce that Daniel Emmerson will join as Director of Spark School, effective 01/12/22. Mr. Emmerson will work closely with Ruxandra Mercea, the founder of the school and her team to lead the school forward and pursue their very ambitious goals.
Mr. Emmerson served as Director of Global Education at Felsted School from March 2014 – till Present. He retains his role as Treasurer and Executive Committee Board Member for the Global Education Benchmark Group, and has previously served as Round Square Regional Representative for Europe and the Mediterranean. He is also a Designated Safeguarding Lead, and Mental Health First Aider.
His extensive experience in various countries around the world as well as long term commitment to global education makes him the ideal person to lead Spark's development and its team.
"I am very happy to welcome Daniel to Spark School. I have full confidence that he will continue on the pathway of excellence" shared Ruxandra Mercea. She continued ¨Spark School is a new educational model and Daniel's expertise will help us build and provide the best experience for our students. We share the same values and ambitions and I am sure we will align in the common pursuit of empowering every student to achieve more, in both their personal and professional life.¨
Mr. Emmerson stated, "I am so honoured and excited to join Spark School. I have joined Spark School because I truly believe that this is the future of education. A school built entirely on students' educational needs, fully adapted to their way of learning. I am a huge fan of the four stranded education model – academics, leadership, wellbeing and global awareness – that helps students be prepared for both professional and personal life. I cannot wait to lead their journey at Spark School.¨
Spark School is a new schooling concept, created to respond to the challenges of the education system. Its Fit for Future Education hybrid model offers students the flexibility they need to choose and master their educational path. As such, Spark School integrates academic development, wellbeing, leadership, global awareness, with university admissions and career guidance so students have a variety of opportunities to explore their future careers and lifestyles. The School uses both face-to-face and virtual learning methods to create the best learning experience and is committed to supporting all learners in their growth and development, no matter where they are located. Spark School is built around young people and how their brains learn (engage, learn, practice, master), allowing them to fully embrace the culture and ideals of a shared learning environment and shift focus from "more hours to learn" to "quality learning time". Students select their own schedule and pace, and have a personalised learning strategy.
Spark School introduces several innovations never seen before in the competitive educational landscape: (1) four stranded education models (academics, leadership, wellbeing and global awareness) that offers holistic development for the future of life
and work, as opposed to providing only academic opportunities. (2) one-stop shop for all students' learning and development needs (flexible, adapted to their lifestyle), built around young people and how their brains learn. (3) nurturing partnerships with schools to create a global educational network that brings together students from all over the world. The School offers a tool to enable education leaders to think beyond 'business-as-usual', overcome the shortage of highly qualified teachers, expand their curriculum and deliver it to students, regardless of their physical location. (4) powerful learning environment where teachers can share resources, cooperate and earn additional income.
About Spark School
Spark School is a hybrid international High School, launched by Ruxandra Mercea, Director of Transylvania College, offering the Cambridge International Curriculum. Spark School mobilises change in education. From a one-size-fits-all system to one that is tailor-made to each of the students needs and abilities, that ensures that all students reach their unbounded potential no matter where and when their learning takes place.
Spark School – Fit for future education!