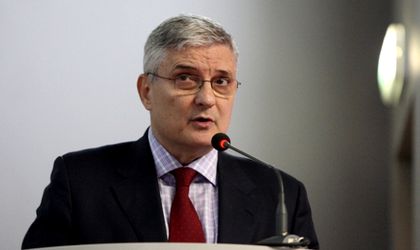 The Fiscal Council announced on Wednesday that its members had elected Daniel Daianu, a former non-executive member of the National Bank of Romania's Administrative Board, as its president.
In the same meeting, Bogdan-Octavian Cozmanca was appointed vice president, after being nominated by the BNR.
At the beginning of July, the Parliament had validated the five new members of the Fiscal Council: Daniel Daianu, Bogdan-Octavian Cozmanca, George Georgescu, Georgiana Camelia Cretan and Sebastian Bogdan Capraru.
At the same time, Daianu quit his role as a member of the BNR Administrative Board.
The Fiscal Council, as an independent authority established by the Fiscal Responsibility Law, aims to support the Government and the Parliament in designing and implementing the fiscal policy and to promote the transparency and sustainability of public finances. The central objective of the Fiscal Council is to help create and strengthen a culture of fiscal and budgetary responsibility in Romania, including by increasing public awareness on the consequences of policy decisions on the sustainability of government finances on the long run, according to the institution's website.