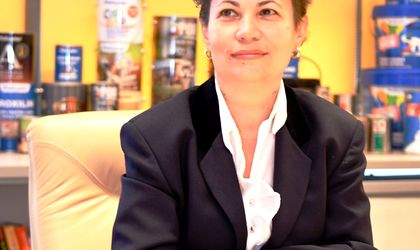 Policolor – Orgachim has a new chief operations officer: Cristina-Theodora Ilie. With more than 20 years' experience in this field, she will coordinate operations on both the Romanian and Bulgarian markets.
From the new position, Cristina-Theodora Ilie has a series of objectives to be fulfilled by the end of 2019, which are related to the implementation of new processes and management tools, the move of Policolor production to a new factory in Bucharest, together with the introduction of new production technology in Bulgaria.
"The biggest challenge for me is the transition from Supply Chain to Operations. Supply Chain refers to efficiency and cost, while the Operations area has a wider set of activities that includes monitoring and control of all processes. The Supply Chain focuses on external activities, while operations in Operations focus on core processes in line with core business directly managed by the organization," says the new COO.
A graduate of the Academy of Economic Studies in Bucharest, School of Commerce, Cristina Ilie has worked in multinationals for 21 years where she has held several positions, from planning, purchasing, factory manager, logistics manager or customer service manager.
Policolor, one of the biggest players on the local lacquer and paint market, has recently completed work on a new plant. The new production unit is under construction on a 2.5 hectare plot of land located in the West of Bucharest, on Timisoara Boulevard. The factory and its own logistic warehouse (an investment of EUR 5.4 million) will be completed in the spring of next year. Paints, plasters, enamels, varnishes, primers and primers will be produced here.
Policolor – Orgachim was formed in 1998, when Policolor – present on the Romanian market since 1965 – acquired the majority stake in Orgachim JSC in Bulgaria. The group operates two large varnish and paint production units, Policolor Romania and Orgachim Bulgaria, and is the regional leader in paints and varnishes technology in the South Eastern European region.