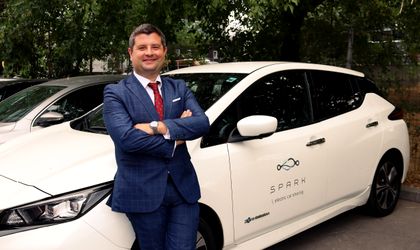 SPARK, the car-sharing service with the largest fleet of exclusively electric cars in Romania, appoints Cristian Prichea as the new Country Manager for Romania starting August 2022.
With extensive experience in leadership positions in the automotive sector, Cristian Prichea will play an active role in continuing SPARK's strategic development in the competitive car-sharing market in Romania, positioning it as a car-sharing brand focused on improving everyday life by providing zero-emission, easily available and affordable commuting.
With 15 years of experience in sales and business development, Cristian Prichea has built a solid career in the automotive sector. He spent the past 12 years at Ford Motor Company in various marketing and sales positions. In 2015, he was appointed Sales Director at Ford Romania and was promoted one year later in the European Ford Sales Coordination Department at Ford Europe. Starting in 2019, Cristian Prichea took over the leadership of the Ford National Sales Company as the first Romanian Managing Director, coordinating the strategic development of Ford and its dealers in Romania.
"In this challenging economical context, my goal is to continue the positive development and secure SPARK's strong position into the car-sharing sector. The market in Romania is growing and SPARK is constantly working on improving the service, which facilitates quick and convenient access to environmentally friendly transport around the city, being an important option for passengers in their urban transport mix", said Cristian Prichea, the new Country Manager SPARK Romania.
Moving forward, Cristian Prichea will focus on strengthening the car-sharing company's presence in the market and consolidating SPARK as a provider of zero-emission eco-urban mobility solutions in a comfortable and accessible experience through an intuitive and easy-to-use application. The former Country Manager of SPARK for Romania – Dimitar Stoyanov – is taking the position of Country Manager of the service in  Bulgaria.
"At SPARK, we are confident that Cristian Prichea's expertise and skills can further drive our development in the local market. With his experience and passion for the automotive industry, he has an in-depth understanding of the customer and a comprehensive vision in tailoring the strategic approach in providing the best possible service. We look forward to seeing SPARK's evolution in Romania with Cristian at the helm", said Nerijus Dagilis, CEO of UAB SPARK Technologies.
SPARK is an international brand for electric car-sharing services in South-Eastern Europe and the Baltics that makes car-sharing accessible to all types of active people who want to travel worry-free around the city.  Started in Bucharest, în 2019, with 50 fully electric cars, SPARK currently has the largest car-sharing electric fleet in the local market, with more than 500 vehicles.