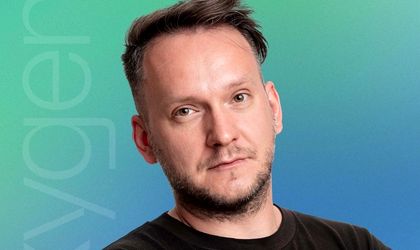 Cosmin Baba, one of the awarded and appreciated creatives in the advertising industry in Romania, joins Oxygen as Creative Director, responsible for managing the creative team and the creative product. Cosmin joins Oxygen's leadership team in order to strengthen its position on the advertising and integrated communication agencies market.
By Romanita Oprea
Having gained recognition in some of the most important creativity festivals and awards, such as Cannes Lions, Golden Drum, ADC, EFFIE, and Internetics, Cosmin Baba brings almost 15 years of experience in advertising.
"This year we focused on consolidating the agency's leadership team and strengthening all departments so that we can better serve existing clients and develop large-scale projects with integrated creative potential. The creative department represented and remains a priority for us, and Cosmin's arrival will boost the creative engines of the agency", stated Tereza Tranakas, Founder & CEO Oxygen.
—
"I am excited to join the Oxygen team and discover every day the determination, energy, and professionalism that my colleagues put in every project. I firmly believe that the future belongs to interdisciplinary agencies, and the ideal is not to 'have' all the departments in-house, but to bring them together in order to achieve surprising results. Oxygen is such an agency, and my role here is to maximize and streamline the creative product offered to both existing and future clients. They say it's hard to achieve the sequel of a success story. Well, we set out to change that.", stated Cosmin Baba, Creative Director Oxygen.
This new appointment completes Oxygen's executive leadership structure, after the appointment of Adina Trandaf as Managing Director and Cristiana Belodan as Strategy & Transformation Director this year. The agency's leadership team is completed by Tereza Tranakas, Founder & CEO, Andreea Filip, New Business Director, and Ruxandra Marin, who manages the Oxygen office in Cluj-Napoca.
With offices in Bucharest and Cluj-Napoca, Oxygen is an integrated communication agency, with a local and international clients portfolio, such as: Enel, Arctic, Beko, Grundig, Farmec, Gerovital, Nufar, Triumf, Olympus, Betano, Moncler, Sensiblu, L'Occitane, Beciul Domnesc, Garanti BBVA, Nestlé, Skoda, Total Romania, VEKA Romania, Huawei, Siniat –Etex Group, VEEAM, Fashion House, Selgros, Masculan, ATP Trucks, Email de Sighisoara, Patria Bank, Magna Pharm, Gregory's România, Jerry's Pizza, Sony Pictures AXN, Prime Kapital, Skechers, Dentons, PPF Real Estate, Green Cola, and many more. Oxygen's mission is to sustainably grow brands and businesses, through insights, strategic approaches, and results-driven integrated campaigns.