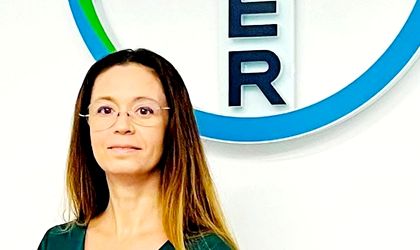 Starting October 2022, Catalina Urse takes the lead of Pharmaceuticals division at Bayer for Romania and Republic of Moldova from her predecessor Jorge Levinson who continues as Head of Marketing Pharmaceuticals for South Mediterranean and Black Sea cluster that includes Romania, Bulgaria, Moldova, Greece, and Ukraine. 
Catalina Urse joined Bayer in January 2020 as Head of Marketing and Marketing Excellence of Pharmaceuticals division and contributed to Bayer Pharma achievements in the past years, including division launches in cardiology and ophthalmology, during pandemic times. Catalina Urse holds a degree in pharmacy and in the past 20 years she learned and gained broad experience with proven achievements in her areas of responsability, in different business models in Romanian pharma industry, from distribution and pharmacy chains to local and multinational pharma companies.
"I am honored and proud to lead the Romania and Republic of Moldova Bayer Pharma organization and together with local passionate and dedicated team to develop further for the future. In these years of uncertainty and volatility, that are challenging for all of us, we follow Bayer's vision of 'Health for all, hunger for none' and we look forward with confidence, thanks to our strong foundation and extraordinary people in our organization. We will continue to serve patients and healthcare professionals and be partner to medical community in assuring access to innovation for Romanian and Moldavian patients, said Catalina Urse on the occasion of her appointment.
—
"It's been an unforgettable time in which in just a small period of time, major global events such as COVID and the war in Ukraine challenged our operations and ways of working. However I can't be more proud of the team's resilience to go beyond and adapt to successfully continue providing medicines to patients and supporting the healthcare community. In my new role, I Iook forward to continue contributing to bring innovative medicines and better healthcare to the country", said Jorge Levinson.
Bayer's Pharmaceuticals division concentrates on prescription products, focused on the areas of cardiology, ophthalmology, women's healthcare, oncology, hematology and cell and gene therapy. Its portfolio includes a range of products that are among the world's leading pharmaceuticals for their indications while its mission is to research, develop, manufacture and market innovative products that improve the health of people throughout the world.
Catalina Urse joined Bayer in January 2020 as Head of Marketing and Marketing Excellence of Pharmaceuticals division and contributed to Bayer Pharma achievements in the past years, including division launches in cardiology and ophthalmology, during pandemic times. Catalina Urse holds a degree in pharmacy and in the past 20 years she learned and gained