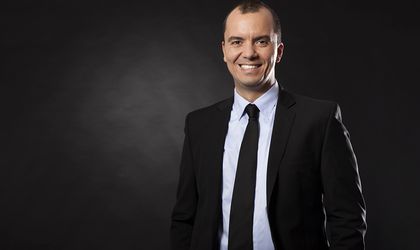 Microsoft announces the appointment of Bogdan Putinică as General Manager for its Romanian operations, effective November 1 of this year.
Bogdan Putinică joins the Microsoft Romania team from the position of Senior Vice President of the Swedish group Enea – a global provider of telecommunications and cybersecurity solutions. In an international leadership role, Bogdan Putinică led Enea Group's Professional Software Services division, a structure with around 400 employees and operations in Europe, North America and China, which has seen average annual revenue growth of more than 20% over the past 9 years, independent of dynamic market changes.
Bogdan Putinica has an outstanding track record and a 20-year career in technology. He started his professional activity in 2000, by founding his own company, IP Devel, one of the fastest-growing technology start-ups in the Romanian industry. Under his leadership, IP Devel reached a turnover of EUR 3.5 million and was the first Romanian IT company to enter the Asian markets, including Japan.
Subsequently, Bogdan Putinică was part of the management team of Adecco IT after it acquired a stake in IP Devel. As Managing Partner of Adecco IT, Bogdan Putinică facilitated the development of the group's business in international markets.
Microsoft Romania supports the digitization of the public sector and actively participates in the development of Romanian IT professionals and startups to enable communities, businesses and society as a whole to reimagine their digital journey, and the appointment of the new General Manager is intended to strengthen the company's efforts in this direction.
"Technology drives economic and social progress, and the last year and a half has shown us how much we rely on it in both business and everyday life. Microsoft is committed to helping every person and organization globally, no matter where they are, realize their full potential, and I have embraced that mission with my commitment. Together with the entire Microsoft Romania team, I will actively support and contribute to the technological transformation process started by the company locally 25 years ago, with the aim of positioning Romania as a regional digital hub. It is an ambitious goal, of the colleagues and partners of the company and, starting today, also mine. I want that together we facilitate the digitization of as many companies and organizations as possible, but also of the educational and public system in the country, as these sectors represent some of the key pillars of any economy and society", said Bogdan Putinică, General Manager Microsoft Romania.
As General Manager of Microsoft Romania, Bogdan Putinică will contribute, through his expertise, to the achievement of the company's business objectives, strengthening its strategic position on the local market. At the same time, he will support the company's efforts to position Romania as a digitization hub by leveraging the country's remarkable potential and unique strengths – a large pool of IT talent, the second-largest economy in Central and Eastern Europe, the second largest population of developers in the region and a vibrant ecosystem of over 30,000 start-ups and IT companies.
A graduate of the Bucharest Academy of Economic Studies with a degree in International Finance and Banking, Bogdan Putinică has extensive expertise in managing software services operations as well as research and product development in multiple international markets.