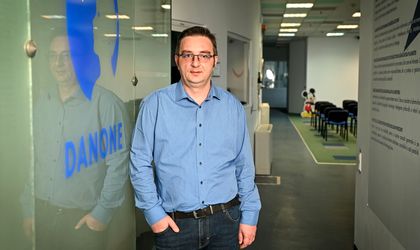 Bogdan Joita, previously Process Manager Danone Romania, takes over the role of Director of the Danone Factory in Bucharest, which until recently was led by Catalin Manoli. The change follows the appointment of Catalin Manoli as Director of the Danone Factory in Aldaia, within Danone's operations in Spain.
Bogdan Joita has over 18 years of experience within Danone Romania, during which he held several positions in the processing, packaging and performance departments. In his new role, Bogdan Joita will lead the most efficient factory in the fresh dairy division in Europe and guide a team of 200 people.
"I am honored to have taken over the management of the Danone factory in Bucharest and I am convinced that I will continue with my colleagues to keep the factory in the top of the best Danone factories in Europe. Certainly, the new stage will bring many opportunities and it will allow me to contribute even more to Danone's mission, to provide health through food to as many people as possible", said Bogdan Joita.
Danone bought Miorita Dairy Factory from Bucharest in 1996, and up to this point, approximately 90 million euros have been invested in its modernization and re-technology. Today, 1 million yogurts are delivered to Romanian consumers, and also to thirteen other European markets. Danone Romania annually processes over 60,000 tons of liters of milk, of which approximately 90% is Romanian milk. Last year, the company collected fresh milk from 22 large farms and over 220 households.
In Romania, Danone is present on the Romanian market with fresh dairy, plant based with Alpro brand and baby and specialized nutrition (Aptamil, Milupa).