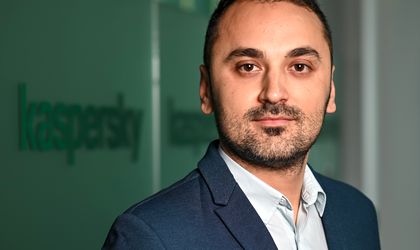 Bogdan Albu took over the position of Territory Channel Manager for Romania, Bulgaria and the Republic of Moldova, starting in August of this year.
In this position, Bogdan will be in charge of managing the communication with the company's partners and distributors, focusing on responding to their needs in terms of security, and will follow the development and sales strategies, in order to improve the important aspects related to the company's activity in the region.
"This appointment is a welcome challenge for me. I want to develop the business and significantly contribute to the Kaspersky projects in Romania, Bulgaria and the Republic of Moldova. I am confident that my experience in the IT industry, combined with Kaspersky's expertise, product portfolio, together with a great local and regional team will enable us to provide the right service and support to our customers, ensuring their secure in a time when cyber attacks happen daily", says Bogdan Albu.
—
"Appointing Bogdan to this position highlights the importance of our ability to respond to the needs of partners in the most efficient way possible, through people who are actively involved in managing well-crafted communication and development strategies," says Dragan Davidović, Territory Manager for Eastern Europe at Kaspersky. "His experience in the IT field, constant desire to develop relevant projects to the company's evolution and involvement in complex activities will certainly help Bogdan make a positive contribution within the company, so as to expand Kaspersky's presence on the Romanian markets, Bulgaria and the Republic of Moldova."
Bogdan has extensive product management experience in technology companies, in which he held various roles, from business development and channel management, to regional management and coordination. His career also includes a period of consulting on cyber security issues across the Balkans, so the transition to Kaspersky came naturally and leveraged knowledge and skills gained over many years.
A graduate of the Faculty of Communication and Public Relations, Bogdan focused from the beginning on the IT field – promoting and selling new technologies and software solutions – but also on the way technology is used today. He followed a series of specialized trainings and certifications, including those provided by Kaspersky, with cyber security becoming his main subject of interest for a long time.