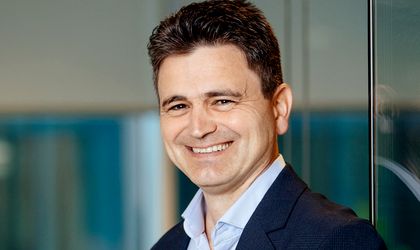 Atenor, the sustainable and international urban property developer with European expertise listed on the Euronext market, appoints Viorel Lăcătuș as Country Manager of the company for Romania.
Viorel has a strong background in the real estate market and vast experience in the industry of more than 19 years. His career started at CBRE in 2004 in the office lease department and in 2007 Viorel was named Head of Investment Department, CBRE. Between 2008 and 2014, he was part of BNP Paribas Real Estate, as Head of Investment Department, and in 2014 he returned to CBRE as Director within Property Investment division. Viorel assisted several significant investment transactions, land sales, joint venture projects and office rentals.
After an impressive career in advisory with the CBRE team, Viorel Lăcătuș has chosen to take another step forward in his career and to capitalize on his valuable experience and know-how in a new position, this time at Atenor.
"I aim to make Atenor one of the most reputable office and residential developers in Romania, which will translate into satisfied office tenants and homeowners. The great people I have found in our office will continue to contribute significantly to Atenor's development in Romania. My years of experience at CBRE have provided me with valuable knowledge and I intend to make full use of it in my new role at Atenor..", stated Viorel Lăcătuș, Country Manager, Atenor România.
Passionate about nature, and an active promoter of sustainability, he is a volunteer and board member of "Plantăm Fapte Bune în România" – the largest association dealing with afforestation at the national level, for more than 12 years. His passion helps him in business, considering that the interest in reducing consumption and acting operationally sustainable is increasing and ESG has become a very important strategy for companies, the sustainable approach of Atenor represents an important decision factor for Viorel.
"Leading the country's operations for a strong and trustful company such as Atenor is an important step in everyone's career. I want to congratulate Viorel on his new role and thank him for being a valuable part of the CBRE team over all these years. His appointment proves once again that CBRE is undisputable a "leaders crafting factory" and I am pleased to see him joining other former CBRE colleagues who now are in top management positions in leading companies and are imposing their own views on the Romanian real estate market.", stated Răzvan Iorgu, Managing Director CBRE România.
Atenor is a real estate development company with European expertise that focuses on large-scale projects, actively engaged in improving the urban living environment, with living and working spaces rich in comfort and well-being but poor in carbon footprint. It is listed on the Brussels Stock Exchange and since 2007 it has laid the foundation for its presence in Central Europe where it has focused on Romania and Hungary. The company has been active for over 28 years in the global real estate development sector. In Romania, Atenor has ongoing investments of 170 million in the local market in the two projects it has under construction – @Expo offices in the Expozitiei area and the Up Site residential project in the Floreasca area of ​​the Capital and it's in advanced discussion for another two residential projects.
CBRE is the world's largest commercial real estate services and investment firm (based on 2021 revenue). The company has more than 105,000 employees (excluding Turner & Townsend employees) serving clients in more than 100 countries. In Romania, CBRE serves a diverse range of clients with an integrated suite of services including transaction management and coordination, project management, design and build services, property management, investment management, valuation, property rental, strategic consulting, property sales, mortgage services and development services.