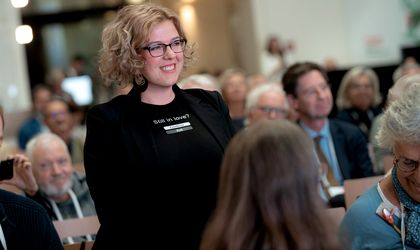 Alina Chiciudean, the nominee of the ARCHÉ Association from Romania, has been elected as a Council Member by the General Assembly of Europa Nostra, the largest and the most representative heritage network in Europe, maintaining close relations with the European Union, the Council of Europe, UNESCO and other international bodies. The announcement was made last week in Prague, during the European Cultural Heritage Summit.
The European Cultural Heritage Summit 2022 was held from 25 to 27 September in Prague, marking the 30th anniversary of the inscription of the city's historic center on the World Heritage List. The Prague Summit brought together heritage stakeholders, policy-makers at all levels of governance, civil society organizations as well as heritage enthusiasts from all across Europe and beyond. On Monday, 26 September 2022, at the Czech Museum of Music, the Summit hosted the General Assembly of Europa Nostra, which discussed the new Strategic Plan of Europa Nostra "Horizon 2025", the newly created Europa Nostra Heritage Hubs in Kraków and Athens, and announced the new appointments to the governing bodies of Europa Nostra, including that of Alina Chiciudean as a council member.
"This position allows me to contribute directly to Europa Nostra's vision. 2022 is the European Year of Youth, shining a light on the importance of European youth to build a better future – greener, more inclusive and digital. Through my work I wish to strengthen the position of young people in the heritage sector: opportunities to start their own businesses, stable and fairly paid jobs, direct and active involvement in decision-making processes on cultural and natural heritage. I hope that all young people who wish to get involved in the cultural sector have equal chances of fulfilling their passion." Says Alina Chiciudean.
Alina Chiciudean holds a PhD in International Economic Relations and has extensive experience in project design and implementation. Her research work in the field of intangible assets and their effects on financial performance has brought her closer to cultural heritage and its values. Over the years she has been interested in addressing topics such as: strengthening international relations between young professionals in cultural heritage and related fields (through various on-site activities, such as: summer schools in Romania or sending participants to other learning opportunities abroad); development of digital archives and education through immersive experiences; fundamental and applied research of the social and economic values of heritage. Co-founder and president of the ARCHÉ Association, she has extensive academic and entrepreneurial experience. She was a teaching staff of the Academy of Economic Studies in Bucharest, Department of International Economic Relations, and currently she is involved in the development of management strategies of various public and private organizations active in the Romanian cultural sector.
"I have been active in the cultural sector since the beginning of my career. I was and I still am responsible for the financial management of numerous national and international cultural projects. The truth is that I always work with passion to raise awareness among the general public and professionals about the need to preserve cultural heritage as a sustainable and strategic resource. Today, culture appears to stand as a priority for investment, representing one of the most important domains in which it is most likely to see results during a 5 year time frame." Explains Alina Chiciudean.
About ARCHÉ Association
The ARCHÉ Association is a non-governmental, non-profit organization that carries out research, conservation, enhancement and promotion of cultural heritage.
Its mission is to support and promote interest in heritage through an understanding of its social role and specific values. Since its foundation, ARCHÉ has sought, through its projects, to facilitate dialogue between specialists from different fields involved in the processes of protecting historic monuments, as well as between specialists and the general public.
The ARCHÉ team is made up of professionals from fields such as architecture, landscape architecture, history, art history, geography, economics, anthropology and communication, who have set out to draw attention to the fact that heritage is a complex and sensitive resource, in constant need of knowledge and responsible management.
Since 2017, the ARCHÉ Association has been a member of Europa Nostra, a European organization that brings together individuals and legal entities working in the field of cultural heritage.
In the future, the ARCHÉ Association wishes to expand its projects and develop new initiatives that confirm and promote the idea that cultural heritage is a catalyst for economic development, convinced that cultural heritage represents our common history, defines our present and determines the outcomes of the future. Bringing together both tangible and intangible values, heritage is a non-renewable resource, fundamental to the sustainable development of a prosperous society based on social inclusion and participation.
Photo: Felix Q Media / Europa Nostra