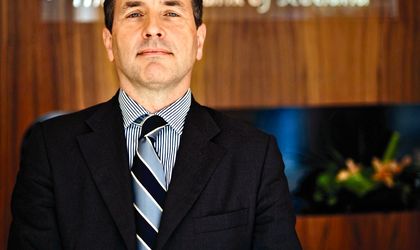 Johan Gabriels, CEO of RBS Romania, tells Business Review about the current state of the banking scene and the lender's local strategy.
Anda Sebesi
What is the outlook for the Romanian banking market in 2011?
From a system perspective, the banks' performance is closely connected to the overall economy. The Romanian banking system will probably stagnate in 2011.
If this prediction becomes a 2 percent fall or 2 or 3 percent rise, then so much better or worse for lenders. It is actually very difficult to say with certainty how things will pan out, as there may be some surprises coming up.
All the banks have joined the race for refinancing. What are your thoughts on this?
Refinancing loans has become more common recently, which also resulted in many promotional campaigns run by various banks. There are several reasons for this trend, one of them being the fact that customers have become more pragmatic and are paying more attention to the relationship they have with their bank. RBS Romania actually encourages this pragmatic attitude, by offering free and impartial financial advisory services through the MoneySense program to any who is interested, no matter if they are customers of the bank or not.
Refinancing a loan is a win-win situation because customers get lower monthly installments and consolidate their debts and the bank gets clients who are "educated" from the financial point of view, as they already know the procedures and modus operandi of the banking services because they have had other loans before.
How would you characterize RBS Romania's financial performance in 2010?
We are very happy with the financial indicators from last year.
The results showed a profit of RON 142.7 million, which brought our ROA to 2.23 percent and our ROE to 18.43 percent. Compared to the average banking system indicators, we had very good results last year.
What level has the credit market reached in Romania and what will 2011 bring in this domain?
We don't foresee a significant increase in crediting. Retail loans will continue to be cantered on refinancing, whereas corporate crediting will probably increase slightly only in the context of growth for the economy. At the same time there is a large segment of the population (52 percent) that is under-banked in Romania (according to a study by the World Bank), which will allow the growth and diversification of products and services offered to retail clients. As customers' demands and the level of sophistication grow, we can expect continuous investment from financial institutions in the quality of the services offered. That said, the level of financial literacy is quite low (30 out of 100) according to the study I mentioned earlier, so we expect banks to continue to invest in financial education programs in 2011.
What will be the main components of RBS Romania's strategy in 2011?
We will continue to concentrate on our target audience (big corporate and premium retail customers with above average incomes); therefore the products and the new features attached to the existing products and services that we are going to launch will be customized for this type of client.
How many branches are operational at the moment and what are your plans for the future in this respect?
We have 25 branches in 15 cities serving both corporate and retail customers and four lounges dedicated to Royal Preferred
Banking clients. We intend to conserve our network; we don't foresee a significant increase or decrease in the number of our outlets.
anda.sebesi@business-review.ro
CV Johan Gabriels
Johan Gabriels was appointed CEO of RBS Romania in September 2009, after spending 20 years in management positions at companies from the financial-banking and FMCG fields. Before he came to Romania he had worked as financial director for the European consumer finance division of RBS plc and as CFO for the retail & commercial markets, Europe and Middle East division of ABN Amro (Netherlands). After graduating from the faculty of engineering in Belgium, Gabriels worked in many countries and for companies such as  Arthur Andersen, Mars (Netherlands, Russia and France), PepsiCo (France, Italy and Spain), Capital One (US and Great Britain), MasterCard (Belgium) and Eli Lilly (Netherlands).