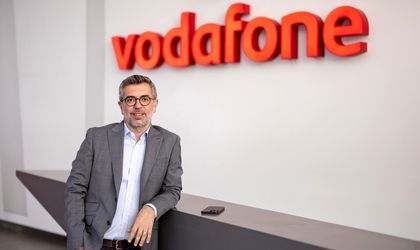 Recently appointed as Consumer Business Unit Director at Vodafone Romania, Nedim Baytorun talked to Business Review about his vast international experience, highlighting the lessons he learned while building a career in the marketing field and providing insight into his goals as a top executive within Vodafone Romania.
By Anda Sebesi
About
Nedim Baytorun was appointed as Consumer Business Unit (CBU)Director at Vodafone Romania on July 1, 2021. He first joined Vodafone in Turkey in 2013, where he held several commercial and marketing roles, including Head of Segments and Head of Digital Transformation & Revenue Management. In 2019, he took over the Consumer Business Director role at Vodafone Albania, leading the agile transformation of the CBU organisation into a household brand and building a convergent business through the Vodafone – Abcom integration. During this period, he was involved in important digitalization projects, including digital trading platform GigaMarket, a first for the market.
Nedim Baytorun was born and raised in a small town in southeast Turkey; his parents were both academics. Having always been a big fan of Science and Math, he decided to study engineering. However, in his last year of college he discovered the amazing world of marketing, so since graduation, his entire career has been built around marketing and sales. In the early years of his career, he had the chance to work with many international managers – Turkish, German, French, Italian, American, Greek, and Portuguese. As a result, his management style is a mix of many cultures. "I am a big fan of communicating directly and openly with no hidden agenda, empowering teams by being a good listener, and challenging them to always step out of their comfort zones and try new things. The best teams I've been a part of have been the ones where there was trust, open conversation, and the willingness to try new things, where you either succeed together or fail together," Baytorun explains.
A proud father of two daughters, Baytorun says he is fascinated with the natural beauty of our country, the cities he has visited, the friendly and welcoming people, and the good quality of life. About his team, which includes young and very energetic colleagues, he says: "They are very enthusiastic and they want to achieve more, which makes me very happy. In fact, I am looking forward to spending more time with my team outside of work as well." With cooking as his number one passion and one of the few ways he can really disconnect and clear his mind, he plans to host a cooking event for his team soon. "I've taken many cooking classes and got several certificates; one of them was from Le Cordon Bleu, and I am very proud of it. I love having the opportunity to socialise with my friends while I cook for them, so much that I even have a hashtag on Instagram: #nothingtastesbetterthancookingforfriends."
Bold projects
As a marketing professional, Baytorun believes himself to have been extremely lucky to be able to do what he loves in four different countries so far: Turkey, the United States, Albania, and now Romania. "This gives you the opportunity to have many stories of both success and failure in different ecosystems where you can learn so much," he notes. Asked to recount some good memories from these experiences, he says that launching the first light Greek yogurt brand in the US was one of the top highlights, from when he was the marketing manager for Danone Light & Fit in the US. "It was the challenge of a lifetime to bring a brand new product line to a huge market."
Later, at Vodafone Turkey, launching the marketplace business during his last year on the job was a major step. "It was one of Vodafone's first solid steps towards becoming a technology communications company and I learned a lot during the process. From Albania, the highlight was leading the acquisition of the biggest fixed internet & TV company and managing the whole integration process. "All of these projects improved my commercial acumen. I am proud to say I have at least as many stories of failure as stories of success, and I can say that each one of them helped me a lot. One big lesson I took from my biggest failures is that you should always listen to the consumer and make sure you get enough core insight before making a strategic decision."
As for what's ahead, Baytorun says that both Romania and the company for which he works represent great progress stories. "I believe the country's progress will accelerate even more through the digitalization agenda. My goal is to make sure that Vodafone has a big role in supporting and leading the country on this digitalization journey.
Lessons learned
"Always be a curious learner. I am a big believer in the learn-unlearn-relearn" cycle. When I started my career, marketing was so different from what it is today. And you should not expect or try to succeed in a 25-30-year long career based on just the 4-6 years of education you got in college.
Be brave, step out of your comfort zone, and try new things. I've always made bold decisions like changing my job or going to work in another country during periods when I was delivering good results and kind of starting to enjoy the comfort. You need to make big changes when you are at your peak, not when you are struggling.
Build teams. If you want to succeed, you first need to make sure that you have the right partners and that you all share the same vision and passion. And once you have that, you must listen and trust. Many of the projects I am very proud of came from ideas that members of my team brought to the table, many of which I was sceptical about in the beginning. But once you learn to listen and trust, success bound to come."