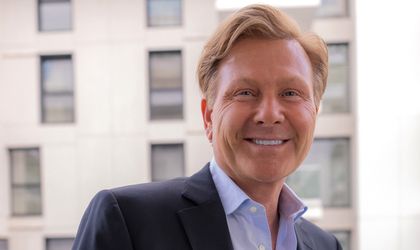 In Romania's history, 2006 is remembered as the year when the mandatory military service was abolished and the big anti-corruption offensive began. It's also the year when Canadian-born Michael Topolinski first came to the country. The thriving economy, mesmerizing consumers with the promise of a better life, made the young investor realize the long-term potential of Romanian Real Estate, which outweighed the risks and challenges one can expect in an emerging market.
He could hardly have anticipated the global meltdown of 2008, which wiped out more than half of his investments.
"That was the year when my children – now 29-year-old Michael IV, Tyler (27) and Ashton (25) – first joined me in Romania, so it was tough for both business and personal reasons. The crisis was a major hit to our financial projections," Michael recalls. "In the end, our portfolio was reduced from 800 to 300 apartments and I was not able to cover all necessary investment, including bank loans. I never thought about giving up on Romania, though. Failure is the first vital lesson one learns in business. Perseverance is the second one." Fast forward 15 years and the Topolinksi family now runs a successful business in Romanian real estate. Their company InteRo Group has assets exceeding EUR 120 million and a strong balance sheet, with only EUR 7 million in debt. Landmark deals include the 2012 purchase of 78,000 sqm on Progresului for EUR 21 million, where Vulcan Value Center stands today, and the largest transaction of 2019, when they sold half of Dacia Textile platform to Skanska Property Romania for EUR 23 million. Here, the two companies are developing an integrated EUR 300-million project, at 43 Bucurestii Noi, a 197,000 sqm environmentally-friendly, state-of-the-art technology IT campus.
"Our shared vision with Skanska is representative of our family business standards and ethics," Michael states. "We make a purpose of working only with highly ethical and fair companies like Skanska, Lidl, Kaufland, Libra Bank, global investment funds from North America, Asia and nearby countries. I strongly believe this principle is the only winning ticket for sustainable businesses and healthy economies."
Admittedly, it's not always easy in a country that is still a battleground for business ethics and fair play.
"Romania has a systemic problem with corruption," Michael notes, recollecting the times he faced such situations himself. "It's ironic that I came here in the very year that the first big corruption cases were investigated. 15 years later, Romania has come a long way but we still see some corrupt politicians, state institutions, paid media, and even 'old guard' business people thriving. As a foreign investor openly opposing 'the corrupt system', I have personally been attacked several times. I refused to be intimidated and never traded my values for a business opportunity."
Michael recalls a very difficult episode for his family after their newest company, Naguma Medical Supply, won a Ministry of Health tender for medical masks, in the beginning of the COVID pandemic.
"We fairly won the contract based on the lowest price, thus helping the state save EUR 25 million from the initial budget. This win at such a low price upset the 'corrupt system' and triggered a chain of unfounded public attacks and libelous accusations against me. Eventually, the court ruled in our favor. Delivering nationwide 103 million medical masks was a huge logistical endeavor in a country with major infrastructure gaps but we kept a tight schedule, and worked 24/7 to take the much-needed masks to Romanians in 41 counties. Months later, the media were calling us investigating why masks were still being kept in storages, because local authorities had not been able to distribute them. And all this time, unfounded public attacks against my family – the private investor that had actually completed 100% of its contractual obligations in good faith – continued."
Did he lose faith?
"Definitely not. There is much more to Romania than this. My children and I work with and meet great Romanians every day, and we are deeply committed to this country and its bright future."