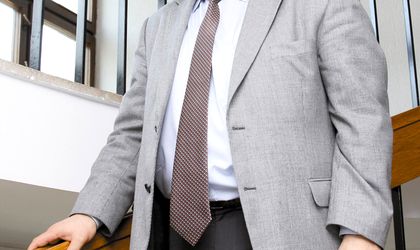 Ioannis Paschalis, minister counselor for economic and commercial affairs with the Embassy of Greece in Romania, told Business Review that the economic crisis that Greece is currently facing poses no threat to the Romanian economy, and that Greek investors plan to further strengthen their position on the Romanian market.
Simona Bazavan
What was the total sum of Greek investments (FDI) in Romania in 2009, and how did it evolve compared to 2008?
There are two different sources of information on FDI in Romania: the National Trade Register Office (ONRC) and the National Bank of Romania (BNR). Greek direct investments (FDI) in Romania amounted at the end of 2009, according to the ONRC, to EUR 1.37 billion, compared to EUR 655 million at the end of 2008. In 2009, the figure rose by more than EUR 700 million compared to 2008. Greece was the fifth largest foreign investor in Romania at the end of 2009.
According to the BNR, at the end of 2008 Greek investments made up EUR 3,154 billion .The BNR data for the year 2009 are not yet available .Greece ranked sixth in 2008 but, if the statistics were to include the Greek investments coming to Romania via Cyprus and other countries, then Greece is probably in fourth position. According to this methodology, Greek investments in Romania today exceed EUR 4 billion.
What were the volumes of Greek exports to Romania and Romanian exports to Greece in 2009?
Last year, the volume of commercial exchanges between Greece and Romania was, according to the Greek Statistical Service (ESYE), EUR 1 billion, compared to EUR 1.41 billion in 2008, down 22.5 percent. Greek exports to Romania amounted to EUR 557.7 million in 2009, compared to EUR 773.3 million in 2008. Romania's imports from Greece last year were EUR 446.5 million, compared to EUR 525.5 million in 2008. According to the Romanian Institute of Statistics (INS) the volume of bilateral trade in 2009 was EUR 1.13 billion compared to EUR 1.41 billion in 2008, down 19.5 percent. Romanian exports to Greece in 2009 were EUR 550 million and the imports EUR 588 million, while the respective figures in 2008 were EUR 608 million and EUR 806 million.
What were the most important investments in 2009 and what industries were targeted by Greek businesspeople and companies?
In 2009, the highest sums (more than EUR 300 million) were invested by Greek banks in order to increase their capital. Zapp's EUR 200 million purchase of Cosmote was another major Greek investment in 2009. In the food processing sector (dairy industry, dry fruits etc) and the trade sector (wholesale and retail, franchising) significant investments from Greece were noticed too. Some investments went into agriculture and the energy sector (wind and solar energy).
How many Greek companies operate in Romania? Could you tell us how many such firms were registered in Romania in the last 12 months?
At the end of 2009, there were 4,697, registered companies with majority capital from Greece, compared to 4,484 at the end of 2008. So more than 200 new companies of Greek
interest – owned by entities or individuals from Greece – were established and registered in Romania during 2009.
Given the current crisis in Greece and the overall economic crisis, how do you see future Greek investment projects in Romania?
Greek investors plan their projects in Romania on a long-term basis and they intend to continue their strong presence in the country. Cosmote for example is investing continuously on a long-term basis. Most Greek companies are optimistic and believe that the worst of the crisis is already over.
The Greek banks won't be affected by the current situation in Greece, since the country's banking system is solid and does not hold any toxic assets of the kind that caused the international financial crisis in September 2008. The Greek mother banks continue to support their local banks in Romania, and improved strongly their capital basis, in 2008 and 2009, in line with the rules set by BNR.