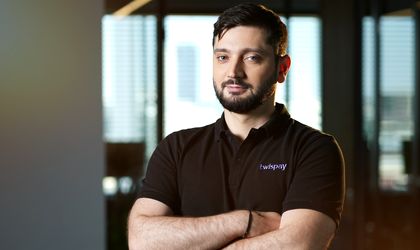 Romania has over 60 fintechs, and the landscape is evolving to accommodate more start-ups that want to leave their mark on digital payments, lending, open banking, crowdfunding, or the SaaS ecosystem. As we enter 2023, a year associated with fear of economic slowdown, a topic that raises questions is how VCs will interact with companies and what financial and funding challenges fintechs might expect. 
By Augustin Dobre, CEO Twispay
A recent study showcases that almost half of the European founders and startup operators that answered a Sifted survey are concerned about not being able to raise money in 2023. Moreover, two-thirds of those who plan to raise money expect it to be more difficult than it was in 2022. 
This makes sense if we consider GlobalData figures that showcase how, in the first 11 months of 2022, cash injections into fintech companies crashed below pre-pandemic levels to $81 billion – almost half, compared to 2019. 
Taking into account all these, as well as regional insights, my perspective is that attracting and managing money will be a top challenge for fintechs this year. More than ever, budgets will dictate a company's direction and development, making many founders reassess their roadmaps and prioritize specific top features. 
It is in this context that business leaders, CEOs, advisors, and finance professionals will get a chance to showcase their skills and bring added value, as the ways they approach things and the directions where they stir companies will make a difference. The challenges of 2023 will genuinely impact who makes it and who needs to sell, restrict or close down operations. 
Funding will be more cautious
It's no secret that fintechs need money to grow, and their development is directly proportional to their resources. Still, compared to traditional players that already have some capital put aside, startups need to raise money to deliver mature products that break even. In this context, the companies that have already managed to secure investment rounds in 2022 will have a higher chance to thrive than those still working out their balance sheets. 
This is because the partners of venture capital funds will be more cautious in backing up businesses, as they will pay more attention to what delivers value and which teams showcase the highest levels of financial discipline. 
Moreover, investors will be more interested in tangible things that not only spark but hold their interest. This is why, if your company doesn't have an MVP (minimum viable product) yet, raising money might become virtually impossible in this harsher, results-driven ecosystem.
Lending will be affected by inflation
It's not difficult to see that inflation has impacted tech and fintech companies worldwide. The layoff epidemic we are witnessing proves that players need to make changes to adapt to the economic situation. Helping employees navigate the difficult financial period required, in many cases, reducing their number. 
The same rising inflation levels have also affected Romania, decreasing people's spending power. In return, this translated into a smaller use of fintech services compared to the COVID-19 period. 2023 will see the effects of this slowdown, as many companies will need to access lending opportunities to support their daily operations. 
The challenge will be that lenders will tighten their belts and become more selective when assessing who they lend to. Business plans will be scrutinized, and conditions will be significantly harsher than before. 
Capital efficiency will be a must
Many entrepreneurs associate capital efficiency with reducing expenses to a minimum, but there are significantly more strategies to consider. Management strategies will be required on all levels, from internal to financial and client. 
Companies that make it through 2023 need good cashflows and fast access to their money to automate and scale faster. Automation and modern tech are the key pillars contributing to operational and capital efficiency in an economic climate where costs are constantly scaling.
How can fintechs navigate 2023's challenges?
No how-to guide can ensure your fintech's success in this period, but there are steps that you can take to optimize your efforts. 
Get practical
2023 is not the time for selling dreams. Stakeholders, be those employees, investors, customers, or lenders, will want to see products that deliver, so it is mandatory always to have something relevant to show them. 
While we already know that an MVP is no longer a nice-to-have but a must, I recommend you go the extra mile and bring in a level of quality and experience that persuades audiences and enables you to differentiate your start-up from what is already out there. For this to happen, you need to prioritize functional requirements. Moreover, you and your team should also focus on offering stakeholders certainty and clarity, ensuring they always have a clear view of your project's progress and KPIs. 
Stay ahead of the regulatory framework
Europe is already working on new fintech regulations that will also impact the Romanian regulatory framework. Building for the future is the only way to optimize your investments in KYC and regulatory processes and procedures and ensure your company will be able to operate in the coming years. 
Any company that wants to make it in the medium term and make a case with investors and lenders should prove it is equipped for the legislation of the coming years. 
Communicate with consistency
The more complex the landscape, the more prominent stakeholders' need for communication. 2023 will be a year when investors and employees will hold companies accountable for how they communicate and the efficiency and transparency they showcase. Trust will not be a given, so leaders must organize internal and external meetings to share updates and insights and report KPIs. Getting everyone to buy into decisions and plans will be a crucial pillar of success. 
Keep your strongest assets close
Companies in Romania have access to global talent nowadays, thanks to distributed work, but that doesn't mean they don't need to cultivate it and prioritize partner and employee relations. 
Demanding times call for stability and fast decision-making, which can only be done when the team is well-oiled and operates in sync. This is why leaders must rely on strong, well-versed professionals who diligently manage their teams. To benefit from this, you must listen to your team members, acknowledge their requests and feedback, and respond. Motivating your teammates is a regular part of a leader's job.