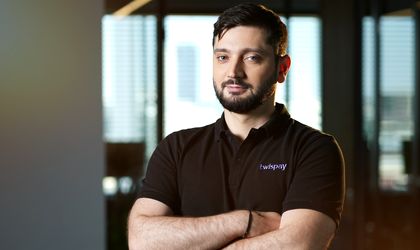 According to Gartner, super-apps are like Swiss army knives, an inspired comparison if you consider that they do, indeed, bring together a series of components and tools that the user needs in different situations. These all-in-one mobile applications combine services and functions that enable consumers to perform several operations without switching between apps or windows. The approach allows them to benefit from seamless experiences that are both enjoyable and efficient. 
By Augustin Dobre, CEO Twispay
As the same Gartner points out, by 2027, over half of the world's population will use multiple super-apps daily. This looks like an optimistic premise if we consider that Europe, and the Western world as a whole, is just starting to see its first super-app initiatives. 
In this editorial post, I will walk you through the critical elements of super-apps and the challenges that European brands face when it comes to developing the next big thing. 
Super-apps 101: How WeChat changed the app game
If you're wondering from where the hype came, it's Asia. Super-apps have skyrocketed in popularity there, taking over the digital scene. Billions of users access platforms like WeChat, Alipay, and Grab daily, making these apps household brands in the area. 
In fact, China's WeChat is the world's first example of a messenger that morphed into a super-app, integrating multiple capabilities. The platform that made headlines and gathered a community of over 1.3 billion users and over 3.5 million mini-programs now offers access to everything from mobile payments to ride-hailing services, food delivery, shopping experiences, and more, enabling consumers and brands to interact and get social. 
What makes super apps so super?
While there is no one-size-fits-all recipe, there are some criteria apps need to respect to receive their super status. Here are the most important: 
They provide multiple services
As a one-stop shop for users, super-apps need to bring together different services from various industries, offering users a seamless experience. 
Everything happens under one umbrella
A super-app acts as an umbrella for the suite of services, ensuring that individuals perceive each experience as a feature of their go-to app. Unlike Western suites, like Google, with super-apps, users don't need to exit the platform to access additional benefits. 
Embedded finance is a must
Super-app users only need to log into their wallets and choose their payment method once to benefit from a consistent payment experience that is easy and secure. Transactions between different services made within the super-app are smooth and seamless. 
Data sharing is a strong pillar of super-app success
Integrating services and providers within the same app automatically generates a need for data sharing. This causes a snowball effect, where the more diverse the services, the bigger the quantity of data available, thus the more stringent the regulatory concerns. 
Challenges that European super-apps face
WeChat's development made the Western world want to develop similar alternatives that would, at least, partially match its success. Doing so requires builders to consider and overcome a series of challenges, such as:
Need for a stronger USP
In emerging economies, like some Asian countries, super-apps gained traction because of their functional benefits. In a mobile-first environment, they used less data and storage space than downloading and using individual apps with the same features. 
The unique selling proposition needs to change because Europe doesn't have the same background. The option is to focus on the seamless experience these apps provide and how they bring together different occasions, like day-to-day transactions and brand interactions, in a social context. 
By shifting the narrative and focusing on particular differentiators, super-apps will appeal to users' need for convenience while driving loyalty through cashback programs and partnerships. 
Consumer behaviors are more inclined toward a fragmented digital environment
With WeChat, you can order a cab, get food, translate documents, video call your friends and invest your money without exiting the app. The mini-programs enable you to add significantly more diverse features to the super-app.
European super-apps might have a different broad outlook since the market is significantly more fragmented, and consumers already have firm favorites in many areas. This is why they will focus on niches and strategically expand horizontally and vertically while staying true to their core business purpose. 
There is huge opportunity in the financial field, where users could benefit from integrated payment, shopping, and investment services, All this while also enjoying a social approach that enables them to send money to their friends, share information on investments they made, take advantage of referral programs and the power of communities.
Some of the next super-apps will result from mergers and acquisitions, considering that the regional markets are saturated with delivery, concierge, and investment apps. 
Regulatory demands
Asian super-apps operate in an environment where the regulatory framework regarding third-party data is significantly less strict than in Europe. On our continent, the legislation in cause is not only extraordinarily harsh and fragmented, making it difficult for some players to align their practices. 
Financial institutions, the cornerstone of the super-app concept, are also highly regulated. Approving new products, services, and partnerships requires lengthy, well-documented processes that make it more difficult for them to approach blue oceans. 
Consumer security concerns
While consumers appreciate the appeal and convenience of super apps, there is concern regarding data privacy and the risks associated with potential breaches. This is why some users might feel uncomfortable sharing so much personal information with just one app and its many providers and partners. 
To make it in the super-app environment, building and consolidating consumer trust is vital, making them feel their data is safe. In this context, blockchain super-apps that offer a decentralized option offer a vast appeal. 
The future of European super-apps
Building a super-app comparable to WeChat, Grab, or Gojek doesn't appear to be a reasonable objective in Europe. Since our background and overall infrastructure are different, there are more chances that we will see complex apps focusing on a particular niche, like financial, commerce, or mobility. 
European super-apps might not replace every icon on your phone's background, but they will respond to consumers' needs for seamless transactions and challenge everything we have learned about UX, setting new standards.