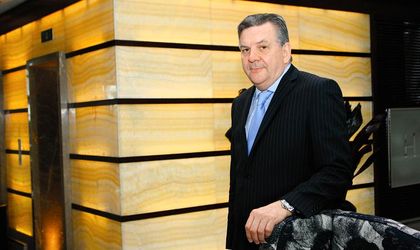 Hundreds of millions of euros worth of investments in biomass are expected to be completed in Romania by 2014. Roger Preston, Eco2 representative in Romania, told Business Review that the main difficulty in giving a green light to these projects is the legislative uncertainty around the number of green certificates for biomass investments.
Dana Verdes
What are Eco2's plans for the local market?
Eco2 has started the process to build two 40 MW straw-fired biomass power plant projects in Romania to produce electricity along the country's cereal belt. The total investment in each plant could exceed EUR 100 million, while both plants will have installed power of 40 MW. Construction of the first biomass plant in Slobozia could begin at the end of 2012 with a finish date of 2014. We have focused on biomass as in many ways it is better than wind; for example a 10MW biomass plant will produce three times more electricity than a 10MW wind farm. With biomass you get electricity 24 hours per day, but with wind you get energy only when the wind blows.
Why did Eco2 choose Romania for these investments?
I've been coming to Romania for about six-seven years and I have lived here permanently for three and a half years. I'm beginning to know how things work and what the main problems are. Traveling in the country I saw people burning their land, which is actually illegal, and I thought "what a waste of energy". Then I contacted Eco2. At the beginning they were reluctant as they had heard about the corruption in Romania, but I managed to convince them as Romania has plenty of straw for such an investment project and also the green certificates scheme to support green energy investments. It took me a year to convince them. This was before the crisis happened. There were some delays because of the turmoil and because each project represents a EUR 100 million investment.
What is the current status of these projects?
Currently, we have secured the land in both Slobozia (5 hectares) and Rosiori de Vede (10 hectares). We are getting municipal land, as both mayors are keen on these investments as they will create jobs. At the beginning we wanted to buy the land in Slobozia from a private owner. We didn't go through with the deal as this private owner demanded too much money.
It is a slow process as there are 36 permits which we have to secure in order to get a green light for the actual investment. We estimate that it will take us between one year and 18 months to get all the approvals and permits. It will be a turn-key operation and we are going to use up-to-date German, Danish or Swedish technology. We will employ about 200 people in the construction phase from the local area and 30 in the operational phase.
What are the main challenges for these projects?
So, the first investment will be started in Slobozia. We need to collect 240,000 tons per year of corn, rape, maize or sunflower straw from local farms to be transported to each biomass plant. For the project to work we will have to collect the straw within a 60 km range of local farm, otherwise it becomes too expensive as we will have to add transportation costs. We have been running this business quite successfully in the UK and also in Spain where we have nine projects all in different stages. We plan to sell the energy to Enel and up until now we have received positive feedback from them.
Do you have contracts inked with local farmers?
We have talked with some major farmers about supplying raw material, but they need very big bailers. Of all the farmers with whom we have talked so far, very few of them have the necessary equipment to do the job. It is very important as this could mean about EUR 2-3 million per year for them. To get the machines the farmers could access European funds. In fact, we have organized roadshows to promote the advantages of accessing EU funds for agricultural technologies.
The plan is to sign 12-year contracts with farmers and we guarantee them EUR 40 per ton of straw delivered as we are going to spend EUR 8-10 million per year. We will give them a good price similar to the prices in the UK and Spain. This is why we didn't want to cheat them. Up until now we haven't signed any contracts with farmers as we have just started: it takes us 18 months to get the licensing and an additional two years to actually build the plant. We can also use some 20 percent wood chips for the plants. One good thing about Romania is because of the various harvests we will have several months to collect straw from the fields which means lots of raw material for our plant. We should have about six big trucks with raw materials entering the plant every day.
Where will you get the financing?
The company will partly finance the project, but we will also get funds from financial institutions interested in supporting green energy projects. The way that Eco2 works is that they sell their projects. Currently there are investors – Spanish ones – interested in buying these projects. It takes up to six years to reach the break-even point, provided that they maintain the green certificates level. Also, there is another certificate for high efficiency cogeneration – currently unclear – as we will try to sell the heat to business. This could be another revenue stream which we haven't researched in depth. Until all these aspects are clarified it is difficult to make forecasts. 
Under what circumstances could Eco2 not complete these investments?
We will continue and keep our commitments providing the Romanian law supporting green energy investments stays as it is. We will not start the investment until we are sure about this. The Romanian authorities have to keep it the same, otherwise they will miss billions of euros of investments. We think there is a conflict between green certificates and structural fund concepts. We are not looking for structural funds. As long as they maintain the level of three green certificates for biomass investments it make financial sense to go ahead with the projects. We are a little bit cautious so we have contracted the land for the investment for two years, with the clause that if during the period we do not get the permits we have no obligation to buy the land. We still have time as we started the permit procedures – which cost us EUR 500,000 – about two months ago. We are also looking to get a wood chip plant in the Carpathians.