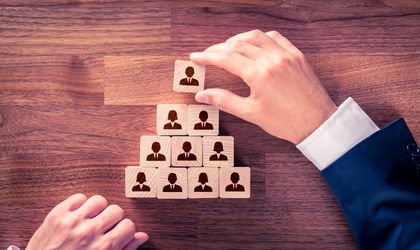 Hiring the right CEO for the job is one of the most important strategic decisions that a company's board can make. According to a recent study, the CEO's impact on a company's financial performance has been increasing over time.1 It now stands at an all-time high, with as much as 20 percent of a company's financial performance being put down to the "CEO effect"— the positive or negative contribution attributable to an individual CEO.
As much as 20 percent of a company's financial performance can be put down to the "CEO effect." – Kearney's "Understanding Exacutive Profiles in Romania" study
And the power of that CEO effect becomes even more evident in times of crisis. The ongoing COVID-19 crisis has exposed a deep divide in the way that CEOs approach this kind of black-swan event. Some have resorted to quick fixes in the expectation that external conditions would pick up, while others have used the crisis as an opportunity to transform and reposition their organizations.
The question of what traits really make a successful CEO has been heavily scrutinized in developed markets such as the US and Western Europe. But there is surprisingly little coverage on the specific attributes that define the success of a CEO in Central and Eastern Europe, let alone in Romania.
With COVID-19 having brought the 2010 to 2019 economic cycle to an abrupt end, now is the perfect time to take a closer look at the unique characteristics that define successful CEOs in Romania over the past 10 years when it comes to delivering either revenue-growth or cost-containment objectives—and to explore how this profile is likely to change in the post-COVID era.
A new whitepaper from the global consultancy partnership Kearney has analysed more than 200 Romanian CEOs over the past 10 years and identified the profiles of top performing CEOs.
Where do Romania's CEOs come from?
Half the current CEOs in Romania's biggest companies are foreign nationals. This figure has remained stable for the past 10 years and is higher than that of most other European countries. Western Europe has a much lower rate of foreign-born CEOs at the helm of its largest 100 companies: Germany has a rate of 20 percent, France 10 percent, and the US just 3 percent. Even in Poland, a country that shares many similarities with Romania, the rate is just 27 percent.
The study also shows that 17% of Romanian CEOs are female, a leading share in Europe (compared to 10% in France, 5% in US and 4% in Germany). Romanian CEOs were also found to be younger than their foreign counterparts, starting to work in the top job at a median age of 40.
How long do CEOs stay in the top job?
Most foreign CEOs come to Romania for fixed-term appointments lasting around four years. This effectively dilutes the average term length for CEOs in Romania, making it appear well below the average term length for a CEO of an S&P 100 company, when the reverse is in fact true.
The tenure of Romanian CEOs has increased over the past 10 years. From 2010 until 2014, lackluster economic growth exposed those CEOs who were underperforming, and replacing them was common practice. But from 2015 onward, the higher growth rate of the economy made it harder to identify CEOs that were falling short of the mark, and the duration of terms increased as a result.
Previous studies have shown that over 20% of a company's performance can be attributed to what is called the "CEO effect" – the positive or negative contribution attributable to the CEO. Kearney consultants identified the key actions and traits that define the top performing revenue-growth and cost-cutting CEOs in Romania.
Top revenue-growth CEOs in Romania outperformed their peers by 6 percentage points per year. This success was underpinned by the three strategies:
leveraging Romania as an export hub for Western Europe
pushing M&A in fragmented industries and
introducing new products and services following tried-and-tested models from other EU markets
With COVID-19, Kearney expects that M&A will be kept as a leading technique for revenue growth for those companies that are in strong financial positions.
Top cost-containment CEOs increased EBITDA margin by 3 percent per year, by adopting three core strategies:
deep restructuring program in response to global crisis
digitalization and automation on both customer and internal operations front
capturing economies of scale
Regarding the resilience of these actions in times of COVID-19, Kearney states that digitalization and automation will be a key strategy chosen by CEOs, as it is a key enabler to contain costs and transition towards modern, digital workspace.