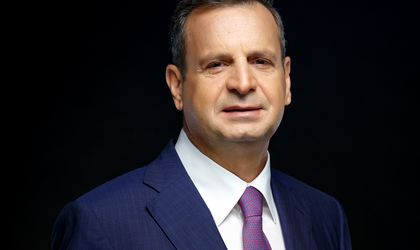 Ufuk Tandogan, CEO Garanti BBVA Romania explains the importance of the digitalization process for both the bank he manages and the entire local banking system and highlights the main achievements of the lender in this direction.
By Anda Sebesi
How would you describe the importance of digital channels in this uncertain period?
Social distancing and isolation rules adopted by the Romanian authorities have led to a much higher need for digitalization and digital literacy. In order to maintain a sense of stability and connection to our everyday lives, acquiring and using digital skills has proven to be paramount. Although this pandemic has had a strong impact on humankind, from many points of view (social, economic, political etc.), it is undeniable that it has brought the future sooner than expected. I strongly believe that the need and preference for digital channels and digital banking will continue the upward trend on the long run.
How do you see the influence of this trend in your business?
Garanti BBVA has always been a visionary player and we have constantly deployed our resources in order to innovate and bring added value to our customers' lifestyles. Therefore, we bet on our digital channels – Garanti BBVA Online and Garanti BBVA Mobile – years before their utility appeared as critical.
We have observed that this digitalization trend is strongly present among our clients and all this is confirmed also by the results obtained in 2020. Thus, for example, in the first month of lockdown, the number of mobile banking transactions grew by over 60% over the same period of last year. Further, during the first half of 2020, Garanti BBVA recorded a 47.7% increase in volume and over 47.4% increase in the number of transactions in the first half of 2020 by our mobile retail customers, over the same period of 2019.  Moreover, between January and June 2020, for the retail customers and all digital channels – mobile and online, the number of transactions grew with over 23.5%, while the volume of transactions increased with 15.2%, compared with the same period from 2019.
What are your long-term plans regarding digital channels development?
The success of our digital channels would not have been possible without all the years that preceded 2020, when we invested heavily and constantly in our platforms, as we believe that there is only one way in banking – the digital way. Our strategy is to continue to invest and develop our digital services, as we see that during these challenging times our clients prefer our easy-to-use and safe digital channels. In developing the digital channels, Garanti BBVA Romania relies on the support and significant know-how of its shareholders. Garanti BBVA Turkey (TGB) has over 8.9 million active digital customers, while Banco Bilbao Vizcaya Argentaria (BBVA) reached 34 million digital clients. BBVA was recognized last year by Forrester Research as the global mobile banking leader, within the review of the mobile apps of 54 retail banks across the world.
Speaking of digitalization. How do you think this trend will evolve in the future?
I believe that people have realized during this period the importance of digital channels and now they know that these are simple and handy solutions.  This is why I am confident that this trend will continue, not because people will be afraid of physical contact, but because online/mobile banking is so convenient and, above all, safe.
On the other hand, the banking sector will have to continuously improve its facilities, in order to respond to the customers' needs. Thus, the increase in demand of digital banking adds more pressure to innovate and to speed up the adoption of digital technologies.  This is a period when customers want to have the ability to conduct their entire financial activities, safely and easily, on their mobile phones and desktops.