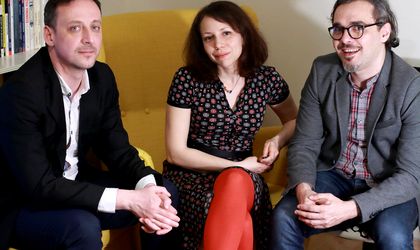 Razvan Dumitru has founded Social Insights together with Maria Miruna Radan and Razvan Papasima feeling that there is significant growth potential for the social research market in Romania. Currently pursuing his PhD degree in social anthropology at University College London, Dumitru spoke with Business Review about his start-up and the need for investments in social research.
Does Romania have at this moment a market for social research? Are there many players offering this kind of service? How is the situation at regional level?
The market for social research in Romania followed the country's economic and social transformation. In the 1990s and early 2000s, social research was financed by Western institutions and international organizations (The Soros Foundation, The World Bank) as they wanted to gain a better understanding of the transition process towards market economy and democratic government. Some of this research was done in order to guide social projects and institutional policies addressing several issues – education, private property, unemployment, free association. Another avenue for research during that period was political marketing as Romania adopted multi-partidism and electoral politics – surveys and focus groups were needed for understanding political expectations and voting behaviour.
Later on, in the first decade of the 2000s we had a boom of consumption in Romania, especially in the big cities. To address this new impetus for buying goods, market research companies were founded and developed. This became an industry. The third stage of social research on the domestic market was after the EU accession. Social research in this period is also supported by EU funding and other donors such as German foundations, and governmental money from Norway, Switzerland and Lichtenstein. Therefore, in the last few years we have a combination of social research funded by European organizations which come on the top of the already established market research while the former big international donors of the 1990s and 2000s had decreased their involvement in social projects throughout the country.
At the moment new markets are carved out by the growing of the big international companies in various economic sectors and the growing importance of the digital domain the everyday life.
Social Research in the Region
What I noticed is that in the countries of the region, as in Romania, social research depends on those that are more resourceful and willing to invest in this type of knowledge. In Bulgaria research is focused on marketing done by market research companies as consumption is becoming more important; in Serbia we see companies that are conducting research sponsored by international actors as the countries in western Balkans are still coping with transition and democratization policies, but we also see marketing research growing there as well. In Republic of Moldova social research companies combine international sponsored research with political marketing (a segment of research enhanced by its geopolitical ambivalence) while marketing research is still in its infancy while Ukraine seems a bit of a mess at the moment.
If we look at the more mature markets in the region, we see companies in Hungary, Poland, Czech Republic and Slovakia growing more and more in digital research.  What is called now big data, which is data collected about people from the internet and interpreted by computer programs and less by people. The volume of information is so huge that human brain cannot deal with it. People are just making the final touches after rounds of analysis done by computers. This has been for a few years the frontier of social research as a new field of human interaction has been opened up by the digital environment. We think that this is also the next natural step in the Romanian market. In the same time our company is also committed to face to face research since we know that real social interaction is fundamental to humans even if the digital environments become larger and more encompassing with time.
Are private companies aware about the role of the social research? What kind of industries are you targeting?
I noticed the growing need for better insights about the work force both about employees and workforce pool in different industries, since many companies are now facing labour shortages in Romania. The shortages concern not just the numbers, but also the skills. People with better skills and especially with technical skills are in great demand at the moment.  We made a study on the industrial companies in Sud Muntenia and Nord-Vest regions about their workforce and it confirmed that there is demand for new work force and better-trained people, especially people with technical skills. This issue becomes more and more complicated for companies when the sophistication of their employees and the growing opportunities they have in terms of resources and working environments. As a company we would like to look more into these issues and see what are the needs in each industry as well as for specific clients.
The second direction is given by the fact that many companies are becoming aware of the importance of the digital environment as big chunks of the economy are moving online, therefore companies will naturally become even more interested in this domain. Also, what is also important is that a new generation of companies (the so-called start-ups) are now being born especially in the digital technology field. These companies, and not only them will naturally want to know more about the social environment in which they want to operate in order to address needs there that are constantly generated there. This is where I see our contribution as we want to offer Social Insights that could inspire companies, but not only, we want to address NGOs and public institutions as well.
How does your company collect data in the research phase?
We are collecting data through questionnaires, focus groups and ethnographic visits that contain interviews, participant observation and video/photography for our research projects. We are also using online questionnaires, and we want to increase our ability to collect information online – both quantitative and qualitative data. This is where we see our next investment in the company, we need investment in technology tools but also IT know-how.
What turnover target do you have for 2018? Are you looking to bring on board new people?
Social Insights wants a turnover of about RON 200,000 and we are thinking about extending collaboration with other people or companies in the fields of technology and we will probably try to bring in the company someone with specialized IT skills – a programmer to help us devise better online research tools and understand how we can collect more and better data online.
 Are you looking to raise additional funding for the company, for instance, through EU grants or other kinds of support schemes?
We are looking for additional funding that will help us increase our presence online at the moment and probably to acquire new equipment needed, such as a CATI system for example, we are looking into funding schemes suitable for us that would help us invest in technology. This is not limited to EU funds but we are looking into that as well.
What is the main challenge faced by your company? But the main advantage you have?
Social Insights is still in its infancy; the main challenge is its take off – to increase the number of contracts and accordingly our turnover. We need more investment in the company. Our advantage is our will to succeed and our experience in the field of social research. During our careers, each one of us, worked on many projects in different countries, we studied in a few countries and universities social sciences and we worked with various research methods throughout our careers. We kept curious and open to new research methods and fields for research and we think that our company should be just like that.