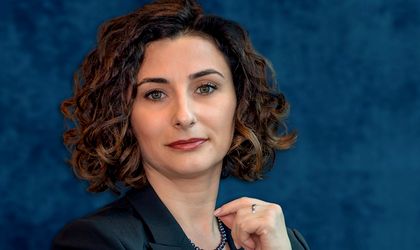 In the pandemic economy, business growth has been the name of the game for Sînziana Pardhan, the Managing Director of P3 România. Business Review sat down with her for an exclusive interview, to talk about the company's results in 2021, the developments in the industrial & logistics market as a whole this year, the new trends for 2022 and beyond, and the hot topic on everyone's mind these days: sustainability.
P3 is one of the top developers and managers of logistics properties in Europe. In Romania, the company ranks 3rd in terms of sq.m. developed and owned. How did 2021 lookpardhan for the P3 Group as a whole?
At a Group level, P3 registered very satisfactory results in 2021, on all business segments – leasing activity, new developments, investments and expansion plans. Industrial-logistics is a resilient and necessary infrastructure and we are proud to say that this year, too, P3 has contributed to the overall resilience of the logistics sector during a very difficult period. After concluding two major acquisitions in 2020, the pan-European Maximus portfolio and the German Matrix portfolio, totalling ~1.5 million m2 GLA, our global portfolio increased by ~48%, with the group currently owning and managing more than 6.4 million square meters of Class A storage space and an extensive land portfolio of approximately 1.6 million square meters with immediate availability for new developments. Moreover, in 2021, P3 Logistic Park celebrates 20 years since the start of its operations in Europe and 10 years on the Romanian market, counting over 200 colleagues, more than 450 clients and 280 buildings across 11 countries, to which we add the current development of over 500,000 m² representing future projects. In terms of leasing activity, in the first three quarters of the year, P3 leased out, in Europe, approximately 920,000 m², and we are delighted to report a high occupancy rate of 96% and a retention rate of ~80% across the entire portfolio, with 100% retention rate for P3 Bucharest A1. The company's evolution was also supported by the favourable market conditions for the development of logistics spaces, including the accelerated adoption of e-commerce and the rapid changes in customers' buying habits over the past couple of years.
What do you think was the engine that drove the demand for the logistics market this year?
From the perspective of the Romanian market, this year, consumption was the main demand driver, with the development of regional logistics centres which serve not only Romania but also other countries in Southeast Europe contributing, too, to the positive, upward evolution of demand. The development of new projects, relocations from lower-class warehouses to class A facilities, and the organic growth of the retail and logistics sectors, together with the requests coming from the tenants who expanded their activities to e-tail had, as well, a significant contribution. Bucharest, as in previous years, has attracted most of the requests for storage space, mainly from retailers, distributors and logisticians, and these are examples we have also experienced at the level of our business in Romania.
What about future trends, what shall we expect this market segment to look like in 2022 or beyond?
The logistics real estate market will certainly continue its dynamic growth trend beyond 2022. We expect to see a positive evolution of demand for large big box locations as the rise in consumption, e-commerce growth as well as increasing cross-border distribution will boost the need for new large logistic hubs. In the same time, we also expect to see a capillary development of our clients' logistics networks, meaning that in the future we should see more and more urban logistics projects that will facilitate a faster and easier access to the end consumer; Two other trends that we believe will become common in the years to come are that of multifunctional logistics parks and the electrification of transportation. As an investor-developer and manager of logistics assets, trends and visions are something we pay very much attention to, and this is why we have already made the first steps in anticipation of these trends by adding as many facilities to our parks as possible, including the installation of fast-charging stations for electrical vehicles in several of our parks across Europe. In fact, two such stations were inaugurated within P3 Bucharest A1 this summer and we have recently completed construction works for a workforce accommodation building that will support our tenants in dealing with the labour force shortage, all while decreasing the carbon footprint generated by commuting workers.
Sustainability continues as a hot topic for the real estate industry and not only. How does P3 look at sustainability, is there a particular approach of this concept?
Although seen as a hot topic, sustainability is no longer a trend. It has crossed this chasm and become a must. At the level of P3, we are putting our efforts into promoting and integrating ESG criteria as smoothly as possible. Our approach to sustainability combines environmental, social and business performance into a set of unitary and results-oriented practices. Thus, when talking about the development activity we look very carefully at the responsible use of resources and we consider the energy performance of our assets and parks as a whole, thus addressing the real needs of our clients, the communities in which we operate and our own employees, investors or collaborators. We also understand that vibrant and healthy habitats are an important component of building a sustainable community, be it professional or social, so we act in a way that continually strengthens social ties with our customers, employees and the communities in which we operate.
How important is sustainability for your tenants or potential tenants? Are they looking for specific features when coming to lease with P3?
We have been happy to observe that during recent years, sustainability has become an important concept for most companies, be they large, medium or small businesses, with more and more of our currents tenants and potential tenants worldwide looking closely into the green elements of a warehouse and of the park itself when deciding to lease and operate a space with us. Now, in terms of specific features, many of them look at the costs reduction part and it is well known that a class A building is more energy-efficient and will help them attain a satisfactory utilities consumption level. There are, however, some clients that are highly committed to decreasing their carbon footprint or even achieving carbon neutrality when talking about warehouse operations or company operations. For them, P3 provides strong support for the decarbonization of their activities and resource management – through features and facilities such as LED illuminating systems, top-quality assets, the possibility to accommodate automation systems, rail transportation for passengers and intermodal rail terminals for cargo, accommodation units for their workers, canteen on site, green areas, electrical vehicles powers stations, solar panels and motion sensors (in some countries).