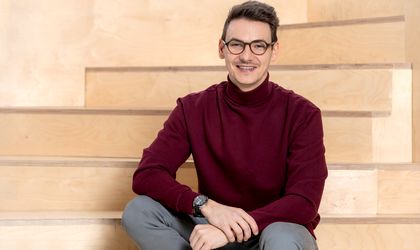 "Smile is power, honesty brings value, hope should never be lost, giving is more important that receiving and constant self-development is a sign of strong character," he wrote on his LinkedIn profile. He believes that we can influence and trigger change in our community in a positive way as we have the responsibility of becoming a solid role model for our future generation. Silviu Andrei Petran has been the managing director of the agency Exploratist for more than 10 years and has an extended experience in client service.
BR set down with the managing director and discussed about the industries his company is operating on and how it differentiates itself on it, clients, education, as well as about the challenges and opportunities of being an entrepreneur right now in Romania.
By Romanita Oprea
How do you define the employee experience and what does it mean to be an agency doing that?
Exploratist helps companies create better experiences for people, to enhance performance and well-being. People do come first, as they are the ones who make things happen.
Employee experience is the overall experience that an employee has during their tenure with a company. It encompasses all aspects of the employee's journey, across all stages and touchpoints – from the recruitment process to onboarding, training, development, day-to-day work experience, and ultimately, offboarding.
So, Exploratist develops projects in employer branding, diversity and inclusion, internal communication – as these are all key elements to an enhanced employee experience, which is critical for attracting and retaining talent, as well as improving productivity, engagement, and overall job satisfaction.
Forward-looking is our expertise. We explore the future to see what changes are coming and how they are likely to impact the way people live and work, so we can develop products and projects that help companies stay ahead of the curve and remain competitive in the work environment.
How was 2022 from this point of view for you and what is your goal for 2023?
2022 was busy. We are here to support companies get a greater understanding of how employee experience impacts their business and help them build the future on their terms.
As expected, in 2022 we have enhanced our project diversity. For instance, we have developed an algorithm for building a strong EVP (Employee Value Proposition), which sets companies apart from the others in the market. Diversity and Inclusion has definitely become a must-have, so we develop projects to help companies move from D&I intent to action. Internal Communication is a very fertile ground for innovation, we're constantly coming up with new ways to get employees engaged and responsive.
We have also expanded our client portfolio. Organizations of all sizes and industries are starting to pay more attention to market trends and strengthen their employer brand by investing in employee experience. We're beginning to speak the same language, which makes goals easier to set and achieve.
So, there is plenty of work to do, and it's rewarding to make this kind of impact.
Experiential marketing has become more and more trendy among the Romanian agencies during the last years. What do you offer differently and why? What can you tell us about Project Atom? How did you arrive at the idea and where is it now?
For us, experiential marketing was a natural step to take – since it is connected to employee experience in the sense that they both involve creating experiences that can drive positive perceptions and behaviors.
What sets us apart? We develop highly customized end-to-end projects, we are a one-stop-shop, and we are very agile.
Why? Because powerful experiences are the ones tailored exactly to the clients' needs; in order not to compromise on innovation, creativity and implementation, we have created an integrated system of services, so we can develop a project from beginning to end, regardless of its complexity; things are happening fast in this industry, so we have developed the mindset and the processes that make us move and adjust just as fast. Ultimately, we want to make our stakeholders happy, that's all there is to it.
This is how Project Atom came to life, and we are as busy as ever.
How open are the clients?
Our clients are not just open, they love it! It's because they loved the experiences we have created for their employees that they have approached us to create experiences for their customers, as well.
Creating experiences that stir emotions, which make consumers remember those experiences and share them with their crowd, is key to getting people to interact and connect with your brand, and become your brand's ambassadors.
Experiential marketing impacts your business, and companies know that.
What do you do to educate them and the market?
Ideas are meant to be shared! We strongly believe that. We all have a lot to gain from the shared pool of inspiration that we build together. What goes around comes around. Which is why our social media and our website are bursting with ideas and projects that get people excited and interested.
Great experiences are also great teaching tools! We learn from what impacts us – this is how we develop thoughts, conclusions, desires, and then goals to act on.
Please give us some examples from the campaigns you are most proud of and why.
We are proud of all our projects, and choosing from your favorites is never easy, but, for the sake of this conversation, here we go:
Fast and Curious National Sales and Marketing Conference has been an innovative and powerful offline experience we have created together with Coca-Cola HBC Romania for their sales force. The event fostered the real feel of the Fast & Curious. #KeeponMoving concept, inspired from the Hollywood series. It won us the Silver Award for Excellence at the Romanian PR Award, in the Event category – https://bit.ly/3XBGg6t.  We are very proud of the creative concept, how it matched the company DNA, and the real feel of the setup we created. This is an example of experiential marketing becoming an innovative and effective internal communication tool, used not only to energize the team, but also communicate and get people engaged with the business strategy.
We are proud of one the onboarding processes we have developed for one of our clients. We made sure all stages of the employee experience and the tools employed were perfectly consistent, authentic and people-centric. Based on the Always Connected! principle, this onboarding concept was nominated for an award at the prestigious international onboarding conference in Amsterdam.
We are also proud of the back-to-office project we have developed with Allianz-Tiriac, where we thought of an original way to help to connect the employees with the physical space of the office, while also sustaining creativity, collaboration, and the joy of working together. The result is an internal branding project that is making a real impact: Bucurestiul, chiar din inima lui, (Bucharest, right from the heart of it), where conference rooms and shared spaces have been decorated with large paintings, made by Mădălina Țântăreanu.
Are you also targeting the regional/ global market?
As expected, we are working on launching a new end2end product for international online events, for global clients. It's been a complex process, which has taken us most of 2022, the goal being for us to reach the next level and make the most of international opportunities in 2023.
What do you wish for it in the near future?
This ecosystem has a bit of magic because it is not just the power of expertise brought together, it also seizes the power of collaboration – we have been working together for a while, so we are fast and smooth. Such ecosystems have the power to transform industries.
The future is now – this is the mindset that we engage and practice, at all levels, in every strategic foresight conversation and rollout. This is how you can create the right context for growth and the possibility for endless exploration, both personally and business wise. Delivering state-of-the-art projects and programs and remaining a game changer in the industry requires to be present and ready to act and react, while adjusting to the overall strategy. Just look how fast we must be to adapt to the everchanging economical ecosystem! The same goes for the agility needed to roll out new products or how important it is to attract the much-needed right talent for the organization. So, to expect remarkable things from the future you need 3 key ingredients: an act-now mindset, a flexible strategy, and the best-in-class people to execute it. If you are committed to excellence, like we are, this is what you must commit to.
What attracts you the most to the employee experience/experiential marketing industry in Romania?
People do come first, and, when it comes to people, it's all about the quality of their experience. How they feel is at the heart of what they do. So, enhancing people's experience – be it employee experience, consumer experience, client experience – is consequential and it impacts well-being, engagement, innovation, creativity, growth, sustainability. So, it feels great to be part of this industry that raises awareness about it and inspires us all to do better.
As for experiential marketing, what I love about it is the sense of possibility, really. There are abundant opportunities for innovation and so many talented people are eager to make things happen! The industry is hungry for creativity, creators love doing meaningful work, so we are happy to oblige and make an impact.
This perfectly accommodates my forward-thinking mindset and active spirit. I have always loved to contribute and push things forward, so I'm all in!
How is it to be an entrepreneur on this market? What are the main challenges, but also the main pros?
Challenges are pros! When you receive challenges constructively, with an open mind and a positive mindset, you turn them into opportunities for learning and growth. I've been doing this enough to know that you must turn everything into the opportunity it deserves to be. You just have to approach it with enough curiosity and courage to make it happen.
That being said, speed of change is the main challenge we have all been tackling for some time now. Moving from offline to online, and then to hybrid has impacted how we work and implement our services, as well as the roadmap of some of our products. Flexibility is key, obviously, to keep the pace with how the industry grows and evolves. Flexibility is also one of our agency's greatest strengths, so we're doing good!
Ensuring a solid micro-economic climate for our agency is a challenge that comes with the territory, which we approach from several angles: resources, capacity to invest, a positive cashflow, as well as management and profit growth strategy.
My spirit has always been entrepreneurial. Creating state-of-the-art experiences for people is my drive. So, the work I do, and the people I love working with, make my entrepreneurial experience quite fulfilling.