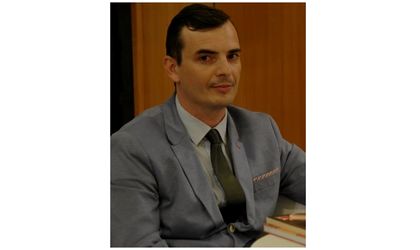 If you have ever considered learning an Asian language, now is the perfect time to embark on this journey. The Department of Asian Studies at the Romanian-American University offers a comprehensive range of language courses in collaboration with the Embassies of the respective countries. Thanks to the support of the diplomatic missions and, in some cases, private sponsors, the courses provided by the Department of Asian Studies are available at remarkably affordable prices or, in certain instances, even free of charge.
Business Review had the opportunity to interview Serban Georgescu, the director of the Department of Asian Studies at the Romanian-American University, to gain insights into the educational offerings and opportunities awaiting language enthusiasts.
Can you provide an overview of the Department of Asian Studies at the Romanian-American University and its objectives?
The Department of Asian Studies (DSA) from the Romanian-American University was founded in 2011 as a result of the need to ensure a better understanding of the Asian business environment. Our department offers, not only to our students, but also to students outside our institution, the opportunity to improve knowledge about this part of the world, as well as the possibility to attend classes and conferences with the main focus on Asian language, culture and economy.
DSA has the following objectives: to promote educational and research activities in order to give our students a better knowledge of the current trends in Asia, to promote cultural activities that are expected to provide new perspectives and a better understanding not only of the traditions, but also of  the Asian countries' social contexts, to develop tight connections with similar entities, both in Romania and abroad, to develop mobility programs, both for educational purposes and internships, to establish a permanent dialogue and a close connection with the business environment. Also, under the umbrella of the Department of Asian Studies there are 4 studies Centers: "Angela Hondru" Romanian – Japanese Studies Center, Romanian-Korean Studies Center, Romanian – Indian Studies Center, Romanian – Chinese Studies Center.
What are some of the key academic programs and courses offered by the department, and how do they prepare students for careers related to Asia?
We are constantly organizing courses of language, culture, business environment, architecture and arts. In addition to the above-mentioned courses, we think that it is important for our students to gain practical experience as this will help them in pursuing their careers, therefore they have the opportunity to apply for study and internship scholarships. Also, we are working with a numerous team of volunteers formed by our students, which is always involved in the relationship with our partner companies and institutions.
How does the Department of Asian Studies facilitate language learning for students interested in studying Asian languages such as Japanese, Korean or Hindi?
The courses offered by the Department of Asian Studies are organized in cooperation with the Embassies of the representative countries, therefore with their support and in some cases with the support offered by sponsors, our courses have extremely low prices or are offered for free. At the end of each academic year, we offer awards for our best students and they get the chance to receive important prizes. We also have to mention that our team if formed by very skilled native and Romanian professors.
What kind of career prospects and job opportunities do graduates from the Department of Asian Studies typically pursue?
Our courses are not only focused on the Romanian-American University students, but they are open to everyone interested to attend. Therefore, the participants from our courses have a wide range of career paths: from international relations, diplomacy, tourism or computer science to students who prepare for professional career in the arts (ballet, movie director) or even future doctors. Since the beginning of our activity, we were interested in supporting those interested to become something else than language teachers.
How does the Department of Asian Studies stay updated on current events and developments in Asia to ensure the curriculum remains relevant and up-to-date?
As mentioned before, our Department has a close cooperation with the each country's Embassies from Romania, but also with other important governmental organizations. We have close partnerships with universities from each Center's representative country and the Erasmus+ program supports the exchanges between our students, academic and administrative staff. We are also constantly participating in or organizing scientific conferences and symposiums.
K-pop has gained immense popularity worldwide in recent years. How has the rise of K-pop influenced the interest and enrollment of students in the Department of Asian Studies?
In the last years the number of students registering for Korean language classes at our Romanian-Korean Studies Center doubled in numbers. We could notice that if a few years ago many of the students were coming because of their passion for Korean dramas of Korean food, nowadays the main promoter of Korea in Romania is K-pop.
Have you observed any specific trends or patterns in the reasons why students join the Department of Asian Studies, particularly in relation to their interest in K-pop and Korean culture?
What I have noticed in the past years is a deepening of the interest in Korea. If at the beginning the students that were listening to K-pop music were coming to study Korean language just to understand the lyrics of the songs, today the students are more interested in pursuing a study scholarship at a Korean university, in continuing undertaking further studies or in working at a Korean company.
Can you share any success stories or notable achievements of the Department of Asian Studies and its alumni?
We can say that 2021 was a very important year for us despite the pandemic situation that was still present at the moment. The "Angela Hondru" Romanian-Japanese Studies Center received the "Tokyo Ministry of Foreign Affairs Award" for promoting Japanese culture in Romania, being the first private higher education institution from Romania to receive this type of award. Also, the first Korea Corner in Romania was open at the Romanian-Korean Studies Center with the support of the Embassy of the Republic of Korea in Romania and Korea Foundation.
When it comes to our alumni, our graduates are working now for important companies and institutions in both Europe and Asia. For us, the most important thing is that many of them choose to remain close to us even after they finish their studies. It is always impressive when they support the activity of our Department, by offering opportunities or scholarships for the future generations, or by even becoming sponsors for our activities.
What sparked your interest in Asian cultures, languages, or history, and how did that lead you to pursue a career in this field?
Before establishing the Department of Asian Studies, I was working in both academic and business environment and I had been able to observe the dynamic evolution from that part of the world. I have also noticed an increase in which regards the need of employees that have degrees in complex professional fields, other than foreign languages, but can also speak these foreign languages, this is how the idea of this Department was created.
What challenges did you face during your journey in studying Asian cultures, and how did you overcome them?
I am actually teaching about business, I have a managerial position at the Department, and I come from the business environment, therefore understanding the cultural context became a must, not an academic interest, but a necessity actually.
How has your understanding and perspective of Asian cultures evolved throughout your academic and professional journey?
I am also the coordinator of the "Angela Hondru" Romanian-Japanese Studies Center and my specialty is the Japanese business environment. Therefore, I think that studying about Japan will be lifetime journey.
Can you share any memorable or transformative experiences you had while studying or conducting research related to Asian studies?
Working at the Department of Asian Studies modelled my colleagues and myself throughout the years, and I think it couldn't be any other way. If you want to work with Asia you have to understand that it is not about the importance of only one moment, but it is a step by step journey that makes you more punctual, more detail oriented, more organized and more focused on the surroundings.
Information about attending Korean classes is available here, while Japanese language & culture courses are available here.