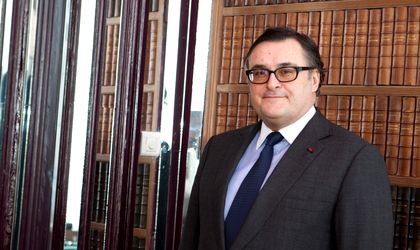 In a conversation with BR in February, at the end of his four-year mandate, outgoing French ambassador Henri Paul drew a farewell postcard image of Romania and its people, just a couple of days after the change of government.
Anca Ionita
How integrated, do you think, is Romania in the EU at present?
To become an EU member, Romania made a lot of effort to comply with the required criteria before integration. After joining the EU, the government reduced its efforts and slowed down the process of integration. This is why it had to constantly be reminded to keep its engagements, particularly fighting corruption and reforming the legal system. I think Romanian public opinion wants these efforts to be made in order to deal with these issues. I am glad that the new government has announced fighting corruption as one of its priorities. But, at the same time, Romania, like all EU countries, has to find the right balance between EU integration and its nationalistic future and ideas. You are looking at a Europe, which has been making, over recent years, real progress in the integration process.
Why do you think there is this gap between public opinion and the Romanian political class?
Because the media are not representative of public opinion, which, I think, finds different channels of communication such as blogs, for example. How many independent TV channels do you have? Not too many; a few.
How long will it take for Romanians to find a viable and powerful voice, to create a long-needed public forum?
I think it will come very soon. I am very confident about that. The 19th-century Romania had a rather strong voice of public opinion. It will have one again.
You arrived here in 2007. What changes have you witnessed during your ambassadorial mandate?
There were changes in the city of Bucharest itself; public services have improved. But I have seen, also, an increase in poverty. People are less optimistic than in 2007, which is a general, global trend. However, the artistic environment is thriving, with many interesting things to be expected from the young generation. The emigration trend will continue, increasing, probably, over the coming years. However, the level of business activity has been maintained, with new projects being developed and new investors coming in. There is still room for growth, which is not uniformly the case for the rest of Europe, and a lot of potential to be fulfilled.