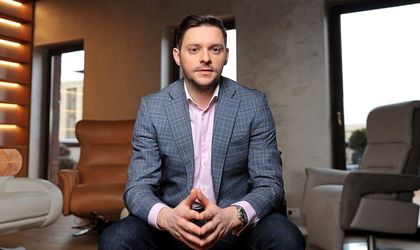 After almost a decade of operating in Romania, BTDConstruct & Ambient is one of the top 10 construction companies on the local market, according to IBCfocus. Along with its tailored construction management strategies, BTDConstruct & Ambient is working towards becoming a full-service provider by integrating new lines of business. The company's Head of Business Development, Razvan Parvulescu, sat down with Business Review to talk about the company's plans for the coming years.
By Anda Sebesi
What is the story behind BTD and how has the company developed since its establishment?
Our company's story began with a small team of professionals who, back in 2013, set out on a journey to build a general contractor firm that would make a difference on the country's dynamic and ever-changing real estate market. The initial team soon grew into a group of experienced innovators in the field of civil engineering, architecture, interior design, and project management, all of whom shared a strong sense of business ethics and a desire to always work in the client's best interest.
Since the beginning, we've been feeding into the motivation to push beyond the limits of our plans and develop creative solutions. From the sketch stage to the moment of handing over our construction projects, we've upheld our core vision of going beyond the details. Over the years, we have managed to make our mark on some of the most important and impressive residential projects on the market, and now, after almost 10 years of operations—which we will celebrate next year—, we are one of the top 10 construction companies in Romania, according to the independent ranking released by IBCfocus.
If we were to look at the financial side, in 2016, with 17 employees, we had a turnover of over RON 25 million and a profit that was close to RON 3 million. The company has grown every year, so in 2021 we had a turnover of RON 304 million, a profit exceeding RON 11 million, and a team of 103 professionals.
What are some of the main projects BTD has developed and implemented?
Our company has multiple projects underway, including Liziera de Lac, Vulcan Residence, Stejarii Residential Club II, Danielopolu, Dimri Residence, Promenada Mall (the underground structure of the extension), Up-site by Atenor, and Medicover Hospital. At this time, we have contracts totalling more than EUR 150 million. Other major projects that have been completed by our team include Win Herastrau, Luxuria Domenii Residence, The Ivy, Gran Via Park, C-entral Residential, H Victoriei 109, H Pipera Lake, Ibis Styles Bucharest City Center, and many more. The projects we have contracted for the coming year are mainly based on sustainability and energy efficiency solutions, with a total of 8 major projects with completion dates spanning over the next 1-2 years.
What is the added value that BTD brings to each of its projects?
Our most important and reliable asset is our team. With the experience and ambition to build using innovative solutions and modern technologies, we have the ability to create tailored construction management strategies that can be measured in terms of costs and time savings, risk reduction, and quality enhancement. The value we add to each project is bolstered by innovative services that make for more creative solutions rather than challenges and our team is the key essential here.
The strength of our company lies in the quality of our work, which is made possible by our team of professionals who are trained to carry out highly complex tasks in a timely manner while adhering to the highest quality standards. With this vision in mind, we have brought together professionals with an average of over 19 years of experience in this field. We work closely with specialised partners in areas like technical construction consulting or health and safety. Together, we can assist those who request our services in all stages of their project, from the design phase to construction and operation.
What can you tell us about the digitalization of the construction industry and what are the main benefits for this sector?
The term "brick and mortar" is already outdated. The digital age is here, the digital push is accelerating, and the race is tight. The industry is quickly embracing new technologies, from automation to Building Information Modelling (BIM) and analytics tools, encouraged by the current economic context—but that's not the only reason. This race forces companies to assess their competitiveness and market position more broadly.
A major upgrade is the use of common data environments and BIM by companies to deliver projects faster and more efficiently. This is a major change from 10-15 years ago, when teams would gather near the end of the month and review how they were tracking projects using spreadsheets and paper forms.
Technology now allows company managers to better understand the production process and whether it is economically efficient, as well as the regional characteristics of markets and customer requirements. All these digital benefits result in streamlined processes and improved customer experience.
How important is digitalization for BTD?
Digitalization is one of our top priorities and a key factor in the modernisation of the whole local industry. This is exactly why our company has accelerated its digital transformation across all business areas since last year to ensure high efficiency and flexibility, allowing us to react more rapidly to new market conditions. Simultaneously, the team at BTDConstruct & Ambient is focused on operational optimisation and improved planning of construction phases, without compromising on the quality of the work.
What can you tell us about sustainability within BTD and how the company approaches this topic?
In recent years, it has become clearer that sustainable projects will occupy the spectrum of new buildings. We have been strong supporters of the industry's move toward resource efficiency. One positive aspect is that the need for sustainability is being better acknowledged in general, not just in our country's construction industry. For example, all the developers with whom we are working have implemented nZEB standards and have included sustainability elements into their projects, and BTD has integrated them in all phases of construction. Recently, there has been a lot of progress in the construction sector along these lines, but the transition process is complex and changing practices will take time. However, a paradigm shift in real estate development—from the focus on construction costs to the lifecycle or sustainability of a building over time—is also essential. Moreover, the concepts of sustainability and energy efficiency must first and foremost be embraced by real estate developers and included in the projects they intend to develop. We are optimistic that we will soon begin to see the industrialisation of the construction sector (to include prefabrication and integrated systems), which will lead to a higher level of optimisation.
What are the most important sustainable initiatives the company has implemented so far?
We rely on sustainable development solutions and on the continuous improvement of our products and services, an asset that allows us to offer our customers alternative methods that not only solve an existing problem, but also anticipate future needs. Our company encourages sustainable and efficient development and respect for the environment, our customers, suppliers, and employees and it pays particular attention to risk prevention, health, and safety at work.
Our sustainable development solutions involve close collaboration between stakeholders so that the construction's impact on the environment is minimised. We were among the first companies to integrate sustainable solutions such as thermal insulation, waste management, and enhanced practices to reduce the construction site's impact on the surrounding community. More precisely, last year we recycled over 2,000 tonnes of waste, we implemented special noise control and anti-dust discharge panelling in construction sites where the landscape allowed, we acquired new, state-of-the-art construction machinery, and we are constantly striving to use more sustainable construction materials.
What are your plans for 2023?
Development plans for the next few years are based on the same orientation towards sustainable and energy-efficient projects, as our objective is to strengthen our position in the industry as a quality and detail-oriented general contractor and builder. We are also working towards becoming a full-service provider by integrating new lines of business.