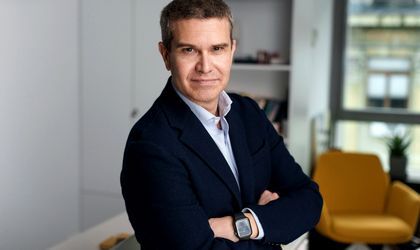 Daniel Cuevas, Managing Director at Philip Morris Romania, gave an exclusive interview to Business Review and talked about the impact of the company's investments on Romania's economy, the organisation's commitment to its people, and the sustainability goals set for the Otopeni factory.
What are the main takeaways of the study you conducted with Strategic Thinking Group about Philip Morris Romania's impact on our country's economy?
The results of the economic footprint study conducted by Strategic Thinking Group show that PMI's contribution in Romania has been remarkable. We are an important partner for the state, and we don't stop here!
In 2020, the total impact of the economic activity we carried out (direct, indirect, and induced) was estimated at RON 4.4 billion. The sale of our products in Romania generated RON 1.9 billion in excise duties and RON 0.6 billion in VAT.
We also generate a significant social impact. PMI employs nearly half of all tobacco sector employees in Romania. The company's annual employment rate growth between 2016 and 2021 was 7 percent, in contrast to the 1 percent annual decline rate for the entire manufacturing sector over the same period.
It took a great financial and professional effort to reach these results, but we are really proud. We are ready to push forward our promise to deliver a smoke-free future.
At the end of H1 2022, how much of the promised USD 100 million has already been invested in the Otopeni factory?
We are in the process of transforming the business and factory in Otopeni. Since 2017, PMI has invested over USD 500 million in transforming the factory into a state-of-the-art manufacturing facility for smoke-free products. This investment was supplemented by an additional USD 100 million, and while we cannot disclose the amount that has been invested so far in 2022, I can assure you that the entire amount will have been invested by the end of the year. Our commitment remains clear: strong investments and a smoke-free future.
How important is the development of a skilled and professional workforce in generating added value for Romania?
PMI is no longer a cigarette manufacturing company, as it was 10-15 years ago, but one that develops products based on science, research, and technology. This means working with highly qualified people. In this process of converting the factory into one that produces consumables for smoke-free products, our employees receive constant training. As a result, new technologies and equipment are being implemented in Romania for the first time.
What's more, the average salaries paid to our employees are well above the national average. In 2020, the average gross salary in the two companies operating in Romania was 1.7 times higher than the national average gross salary.
Who are the people inside Philip Morris Romania and what can you tell us about the company's investments in its workforce?
People are our most important asset. Philip Morris Romania employees are dynamic, adaptable, and flexible. My colleagues are ready to dedicate themselves to the mission of building a smoke-free future. We make sure that we attract the most valuable resources on the market, providing attractive salary and benefits packages.
We try to encourage our people to develop constantly, both professionally and personally. Between 2016 and 2020, the number of trained staff increased by 39 percent, from 819 to 1,135. We also invest in new talent by developing internal programmes. The number of internships has also increased: over the past 3 years, we've hired 99 interns.
We are transforming our business in order to provide better choices for adult smokers who would otherwise continue to smoke.
In terms of environment and sustainability, what is Philip Morris Romania's strategy and what type of projects have you implemented so far?
We have set an ambitious goal of making our Otopeni factory carbon-neutral by 2024, and we have taken important steps already. I will only mention a few. First, the share of renewable energies used in the manufacturing process reached 36 percent in 2020, up from zero in 2016. Second, no waste generated by our production activities in the Otopeni factory reaches the landfill: 70 percent of waste is recycled externally and 30 percent is used for energy production. And last but not least, the Otopeni factory has two wastewater treatment plants that have been certified as compliant with the International Standard for Water Stewardship, version 2.0.