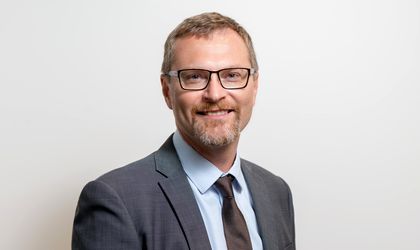 In the midst of the biggest energy crisis in recent years, Business Review talked to Petr Hermann, Cluster President & CEO, South East Europe, at Schneider Electric, about his company's role as a leader in energy management and automation in helping organizations make the most of their energy and resources through its digital solutions that enable improvements in efficiency and sustainability in buildings, industries, data centers and infrastructure.
Companies of all sizes in Romania have been looking for ways to cope with the rising costs of energy this year. Your company core business is power management and automation. What kind of solutions and strategies does Schneider Electric propose to its clients in the geopolitical context?
There is no doubt that Europe will have a challenging time phasing the current energy crisis. Now, more than ever, businesses to stay competitive will need to act fast, implement energy efficiency measures, invest in their own energy resources – such as solar plants – and integrate them efficiently into their overall energy management. Governments, on the other side, will need to secure reliable energy supplies, specifically gas supplies, and avoid possible power blackouts.
In this aspect, as a leader in energy management and automation, we are ready to help companies make the most of their energy and resources. We do that with our digital solutions that enable improvements in efficiency and sustainability in buildings, industries, data centers and infrastructure. It is important to emphasize that digitalisation is a major driver for energy efficiency starting with on time monitoring, data analytics that enable people to make decisions towards efficiency and ending with control systems and solutions that make all efficiency happen.
Particular attention needs to be placed on matching the power supply side with the power demand side to maintain the stability of electricity networks. More to the point, we will need to reduce electricity consumption peaks through more extensive load shedding and other measures.
And to manage a lot more distributed energy resources, mainly renewables, we need flexible smart grids that can efficiently and reliably manage the integration of renewables into the grid and match reliably supply with demand.
I believe that lot more extensive electrification than we have today together with smart technologies would be the best way for Europe to reduce our dependence on natural gas, improve competitiveness of European businesses as well and to improve towards sustainability.
More specifically, how can digitization contribute to a more efficient energy consumption?
Digital technology such as metering and monitoring enables us to see how we are using our energy and to take measures towards becoming more energy efficient. Adding to this smart devices, apps, analytics, and software goes a step further and enables us to deploy smart energy more efficiently, meaning we can address a huge amount of untapped potential for energy savings, in all types of companies, of all sizes.
Moreover, proven to be three to five times more efficient than other sources, electricity is the most efficient kind of energy; it is also the best vector for decarbonization. By 2040, the share of electricity in everything we do will double, reaching at least 40% of final energy consumption; and six times more electricity will be generated from solar and wind.
For example, our digital EcoStruxure platform combines the Internet of Things, big data, software, and artificial intelligence to help customers manage together energy, processes, and resources and by this we reach the best overall efficiency for our customers.
Right now that the companies are struggling to keep afloat, would it be the best time for new investments?
Yes, certainly. Investments in energy efficiency leveraging digital technologies prove to have a fast ROI. And right now this goes beyond financial gain and financial stability. Electrification allows for less dependence on gas and it is also a solution for sustainability. We already have great examples at hand.
In Finland for example, Schneider Electric and Lidl Finland have built Finland's largest, 100% renewable, industrial microgrid for their new and innovative distribution center. The distribution center's microgrid works with a battery energy storage system. The storage plays an important role in equalizing consumption spikes and ensuring continuous power distribution. Should the Finnish national power grid become temporarily overburdened, the amount of grid electricity consumed by Lidl's distribution center can be reduced by simply putting the battery storage to use. Lidl did this in Finland four years ago, the expertise is right there to tap into.
Similarly, in our region we have several examples from applying our technologies to our own facilities in order to be more sustainable, but also, under the current circumstances, to be more resilient and efficient. In Bulgaria, in our plant in Plovdiv, we are applying our smart technologies both for increasing the productivity of our factory, but also for the energy management of the facility. In the same way, in our factories in Hungary we are currently investing in modernization and automation projects aiming to reduce the energy waste.
Very inspiring can also be our own recently completed office buildings in France. In one, the newly build one, using right combination of digital technologies – such as monitoring, building management system and advisor integrated with microgrid – we reached world best in class consumption per square meter at a level of 35 kWh / year. In another one, our old office building , we applied the same digital technologies and we were able to reduce the energy consumption 4 times.
But the beauty of it is that our solutions are scalable and can be suitable for many types and sizes of companies. Most of our software solutions are brand agnostic, which means that the integration with technologies from other companies is quick and seamless.
Of course, the ideal situation is for us to be involved in the early stages, when a building or a production facility is in early stage of planning and where we can make sure to help our clients design, build and operate a highly efficient facility, but we can definitely also significantly contribute with our smart energy efficient solutions.
Last but not least, in renovation projects, if we are engaged in the early planning phase we are ready to share our experience and help our clients generate significant energy savings and consequetly cost savings as I mentioned with example of renovation our own office building.