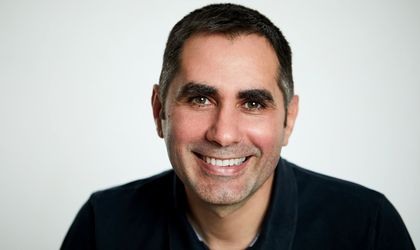 Mircea Stan, CEO & Founder of Postis, sat down with Business Review and talked about the latest developments in the Romanian and European startup scene and the effects of the recent economic downturn on the evolution future investments and the risk appetite of startup entrepreneurs, but also about his company's latest achievements: the expansion into Poland and the results of H1 2022.
What is the effect of inflation and the downturn of the economy on the startup industry (both local and regional/CEE)'s evolution?
Despite many people's belief, the inflation did not start with the spike in energy and fuel prices from early 2022, after the debut of the war in Ukraine. Inflation was already present since mid- 2021 and it was the consequence of the vast amounts of money pumped by governments across the globe during the two years of pandemics. Those money allowed people to get salaries, even if reduced, while they stayed in lockdown. Money also allowed businesses to stay afloat in the first part of 2020 when their customers were not able to come to their shops, employees were not able to go to work, and everybody was afraid of what was coming.
Another tool used by international and national banks to keep the economy working was to reduce the interest rates and make money available to businesses. In some cases, we saw even negative interest rates, meaning that national banks were paying a premium to commercial banks to borrow money and pass it on.
The consequence was a "financial fiesta". Money was pouring everywhere, and people started to spend again and did not look, too much, at prices. Notable for this effect was the real estate, where the available money in the market met a significantly increased demand due to people turning their homes into offices, schools, and social places, next to their initial purpose – be a retreat.
When it comes to startup funding, this "helicopter money" was doubled down by the EU-funded programs aimed at increasing the European competitiveness in new techs, green and sustainable industries, green energy, and more.
And then, 2022 hit. What was supposed to be a mild and steady recovery after the pandemics, with its contrasting 2 years – global medical crisis, social distancing, work downshifting, financial overflow, minimal interests, increased consumption, higher prices – was condensed into just 3-4 months. Energy, fuel, and food prices are surging. Consumption plummeted, especially in March, at the beginning of the war. Interest rates are increasing fast in an attempt to temporize inflation. Governments try to sugarcoat the socio-economic uncertainty with social programs and subsidies. But the fiesta has long been forgotten and everybody needs to brace for impact.
Zooming in to startup investments, until 6 months ago, you needed to have an idea, and the money was already on the table, so to speak. But this happens no more.
Now, investors pay much, much more attention to the idea, the people behind it, and the business plan for sustainable and long-term growth. To this effect also contributed the results rendered by investments made in the previous years, which in some cases were disastrous.
For instance, in May this year, SoftBank Vision Fund posted a record $27 billion loss as tech stocks plummeted. It was the biggest loss since the investment fund began in 2017. Or, looking at an example closer to us, UiPath: after a record share value of USD 79.82 registered in May 2021 following the NYSE IPO, now the value is at a mere USD 19, with a -74.61% all-times valuation loss.
However, on a local level, things don't look that bad. The Eastern European startup ecosystem in general, and the Romanian one in particular, even if on an accelerated growth trend, are still small as compared to the global scene, so the impact is not so visible. On one hand, it happens because there are just a handful of unicorns in the region, with most of the startups raising money in seeding rounds or series of up to tens of millions of Euros.
On the other hand, the money from the EU-funded programs is still there and ready to fuel local innovations. On a daily basis, we continue to see local startups that are raising funds and expanding their operations. More, despite increasing interest rates, risk investments still pay a premium, so we see private equity increasingly available as venture capital.
How would you describe the situation in the local market versus in the rest of Europe? We see an increasing wave of startup layoffs in Europe.
The economic turmoil mentioned before, unfortunately, led to a wave of layoffs. Perhaps the most relevant example is Klarna, one of the leading FinTechs and a buy now pay later (BNPL) provider, which announced in May that it will let go of 10% of its workforce (meaning almost 700 employees), due to a difficult European economic context. The FinTech sector was the most affected by the layoffs.
On the local level, startups that have a clear business strategy continue to thrive and hire new people, as they continue to grow fast. We cannot say that we saw the same layoff trend here in Romania.
For example, we, at Postis, plan to hire new employees by the end of 2022 for all departments, including business consulting, product development, data science, customer support, and marketing. Even more so, as we are in a full process of international expansion, with a local office opened in Poland in February and a second one to be opened by the end of the year in Germany.
To those who do not know us yet, our platform uses process automation, data science, and AI to optimize the last mile-deliveries and to create differentiating customer experiences in retail and e-commerce. The Postis Platform was launched 5 years ago. When the pandemics hit in 2020, we were already in the market with technologies capable to help retailers to adapt to the new context and switch rapidly to online sales.
Now, in this context of uncertainty, once more we provide the right tools needed by any company in Romania, CEE and SEE that transports and delivers goods and needs to increase productivity, streamline operations, optimize costs, diversify delivery options, improve customer experience and relationships, scale the business, adjust the business model, or enter new markets. And the results we have so far with more than 200 companies, including Flanco, Ikea, Cărturești, Elefant.ro, Auchan, Intersport, Cora, Noriel, Carrefour, and so on, are proofs of what we can do for our customers. From transport budgets reduced by up to 25%, refusal rates lowered by 20%, operational efficiency increased by 15%, 25% higher customer satisfaction or 20% lower abandonment rate, to higher flexibility to test new processes, reduced IT deployment time and cost when diversifying delivery options and more.
How does the local market consolidate: are funds still being invested, or on the contrary?
In my opinion, the Eastern European (CEE, SEE) and, in particular, the Romanian market still attracts a lot of funding, as it has a lot of potential for new business projects and ideas developed by ambitious entrepreneurs. Next to VCs already established in the market, we continue to see new investment initiatives, like Ronin, the blockchain crowdfunding platform launched last year by Ovidiu Ghiman, Felix Crișan, and Bogdan Almași, or Underline Ventures, the venture fund just launched by Bogdan Iordache to target early-stage high-growth Eastern European startups.
As I said earlier, we see daily news regarding startups raising new funds, startup accelerators or mentorship programs, and investment funds willing to allocate money to new business initiatives.
But startups need to tick much more checkboxes than before. From the go-to-market strategy, the growth plan, the team structure, business validation in the international arena, and more.
In the context of 2022 and, probably, in the next year or two, I think that the startups that will innovate and provide solutions to reduce costs, optimize processes, increase efficiencies, reduce energy consumption, facilitate access to new markets, switch businesses to green energy, in general, those ideas that maximize the ROI in a period of increased costs and decreased opportunities will be more likely to thrive and be financed.
How would you describe the risk appetite of startup entrepreneurs?
By definition, startup entrepreneurs are prone to risk. I wouldn't say that Romanian entrepreneurs are now more cautious when it comes to taking certain business decisions, but they rely more on objective data and they make business decisions based on that.
Risk mitigation is helped in three ways: first, there are a lot of founders that gained know-how, experience, and business discipline in multinational companies, which now they use in their endeavours.
Secondly, there is a startup mentorship approach that develops rapidly at the city, national and regional levels, involving both private and public entities. A lot of accelerators, startups & entrepreneurs communities are now ready to help, and the success of early founders paves the way for others.
And thirdly, the local VC community is getting more mature and does not provide money only, but know-how and guidance.
What are the current priorities and business strategies of a startup like Postis in these conditions? Do you have any recommendations for other startups to mitigate financial risks?
We continue to do what we know best, which is to enable the best last-mile delivery experiences for our customers. Referring to the market context in which they operate, our focus is to add value to their businesses, and improve their operations, efficiencies, experiences, and ROI.
And, as said before, the difficult times for some may be full of opportunities for others, therefore we will further develop our platform and toolbox, we will increase our team, and expand internationally at an accelerated pace so that we can provide our solutions and benefits to as many distribution, retail and e-commerce companies in Europe as possible.
To the newly discovered founders, I have no advice, but only share some of the experiences that I've learned the hard way:
think of an idea that serves a purpose in the market, which now is focused on efficiency;
test the idea and make sure it can be scaled fast internationally;
make a sound plan and be bold when you present it to investors;
don't get stuck in analysis, start implementing, observe critically your work, learn from mistakes, be ready to change as you go, or even restart from scratch;
listen to the customers, because they will be the ones that will fine-tune your business.
You recently expanded into Poland. What are your future plans?
At the end of February, we expanded internationally, covering the CEE from our local Polish office which we opened in the city of Wrocław.
We already have a relevant presence in the SEE region, expanding our services in Bulgaria, Greece, and Cyprus for big brands such as Ikea and Intersport.
By the end of the year, we plan to launch our local operations in Germany, to cover the Western part of Europe.
This expansion, together with our further platform development, and team growth, will be fueled by a Series A investment round which is soon to be finalized.
How was 2022 so far for Postis in terms of business results and achieved milestones?
This year was very important for us. Next to our international expansion, we approached the B2C market as well and launched a new product, the Parcely by Postis mobile app, which enables shoppers to track in real-time all their deliveries, from any retailer, through any courier.
Also, we expand rapidly our list of partnerships, and our carrier catalogue, so that we provide all options needed for the customers that join the Postis Community.
At the end of 2021, we tripled our business and reached recurring revenues of €1 million and we will continue the same growth trend for 2022.