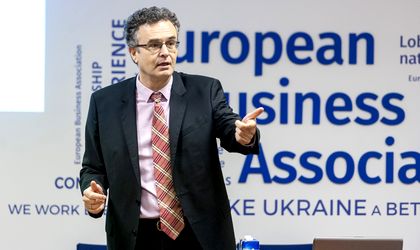 Leslie Szamosi, Executive MBA Director sat down with Business Review and talked about the main benefits that the Pan-European Exec MBA offers to its students and how it can bring significant business opportunities to them, as they share knowledge while being part of a wide learning community.
By Anda Sebesi
Why a candidate might choose the Pan-European Exec MBA?
There are a number of reasons why a candidate should choose the Pan-European Executive MBA program but let me highlight some of the key ones.  First and foremost, students get two degrees, one from a leading U.K. university (University of York) and one from a prestigious European university (University of Strasbourg).  Secondly, our international lecturing staff has vast academic and practical experience from across the world that they bring to the classroom.  Over the 30 years we have been running our program which takes a holistic orientation to management education, we have developed a unique soft-skills development program that runs throughout the program and includes a personal leadership and career coach who works with our students and seminars including project risk management and negotiation skills development along with open seminars on current managerial issues of the day. We give students unparalleled networking opportunities including study trips to York, Strasbourg and Thessaloniki with their colleagues from our eight different teaching countries from across the region. In a summary, students get a world class educational experience that has been accredited by the Association of MBAs (AMBA) and certified by the Chartered Management Institute (CMI).
How important is AMBA accreditation and what is its added value for the program?
In any business today international accreditation is necessary to ensure and validate quality. AMBA is the only global accreditation agency focusing on MBA programs. It ensures that we are meeting the highest international standards in what we bring into the classroom as well as the activities outside the classroom.  There are only 250 MBA programs that have received this prestigious certification. What this means to students is that they can be confident that the program they are enrolled in is meeting (and exceeding) the standards set. Through our accreditation, students become members of the AMBA network which now includes nearly 50,000 members (network) as well as access to career services and other advantages. At the university level we have the opportunity to benchmark and learn from the best MBA programs globally. There is much to be gained and be proud of in having enrolled in an AMBA accredited institution!
Why did you offer 2 ways of delivery – F2F and blended – and what are the benefits for the students?
Until the onset of the pandemic we were a fully F2F delivered program across our 8 teaching locations.  Although we were involved in online interaction with our students, we needed to migrate fully into online education. We were extremely successful in this and students were able to continue and successfully complete their program. At the same time, many managers globally were also able to see the benefits of online education. We decided to offer a blended version for those who want primarily online education BUT also want F2F connections – our online students will take their courses online except for those linked to the Study Weeks at York, Strasbourg, and Thessaloniki. This gives our F2F students the opportunity if they miss a unit in their city to go to one of our other teaching cities OR take it with our online cohort.
How important is for a student to be part of such a strong international alumni network and what are the real benefits?
It is critical for MBA students, and executive MBA students in particular, to integrate into strong network of like-minded people – education is one component of today's MBA programs.  Our students will have the chance to connect with students in their home teaching city, with students in the other teaching cities and those taking the blended program, our over 3,000 alumni from across the region, and the near 50,000 graduates on AMBA accredited programs globally. This provides an amazing opportunity for doing business, sharing knowledge, advancing careers and being part of the learning community.  The stronger one's network is the more opportunities evolve.
You offer an addition certification CMI. Can you please give us more details about it?
Our program has been certified by the Chartered Management Institute (CMI). In addition to their dual MBA degree from the University of York and the University of Strasbourg, graduates may additionally obtain the Level 7 Executive Diploma in Strategic Management and Leadership of CMI. For those students that sign up for this certification, when they successfully complete our MBA program, each will receive a diploma from the CMI directly. This provides an additional guarantee about the quality of our program as the CMI is a professional education body.
***
For more information about the Pan-European Executive MBA offered at CITY College, University of York Europe Campus as well as the programme requirements for application please visit:
Alina Toader, Country Manager Romania