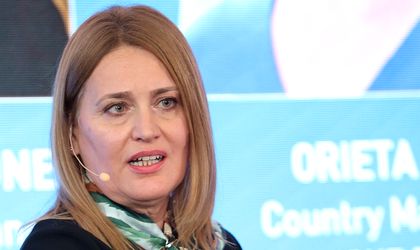 Business Review sat down with Iuliana Tiba, Director of Environmental, Social and Positive Impact Financing at BRD – Groupe Société Générale, to talk about employing sustainable practices without sacrificing financial performance, her company's achievements in 2021, and the sectors in which Romania is in urgent need of investments.
Why do you think sustainability should be a priority in Romania?
In the current global context, with the ongoing sanitary crisis and climate change largely acknowledged as a crisis, sustainability is no longer an option, but a need. As part of the European Union, which set its ambitions to become the first climate neutral continent by 2050 and committed to the UN Sustainable Development Goals agenda, Romania has to incorporate at all levels sustainability in the decision-making process, from administration to private sector and financing institutions. This will be needed in order to assure long-term sustainable development, as a delayed energy transition of even 2 years for Romania could be translated in a 33% reduction in the favorable effects of measures in the long term. Meanwhile, transitioning to renewable energy can lead to capturing opportunities estimated of EUR 60 bn until 2030, in the field of climate change alone. Naturally, this could also contribute to the development of innovation, as such a large-scale transition will require new business models or product/service reconfiguration.
Can sustainable practices be adopted without sacrificing financial performance, or is there a healthy balance companies should strive to maintain?
Studies have demonstrated that sustainable practices contribute to the better financial performance of companies, rather than just representing an upfront cost. These studies show that sustainability and profitability go hand in hand. Adopters of such practices have shown more resilience during the COVID-19 crisis, were better equipped to capture competitive advantages, by better positioning themselves among the brands or consumers that became increasingly sustainable, conscious and selective, due to changes in legislation/regulations, or even behavioral changes. Thus, the front-runners will be the ones to make a difference not only for the environment or communities, but also in their financial performance. By preparing in advance, companies will also have the possibility to diminish the climate change impact of on their business, be more inclusive, spot new business opportunities and avoid the so-called stranded assets.
What is a major achievement BRD – Groupe Société Générale is particularly proud of this year?
For BRD, 2021 was the year we are proud to have launched a series of transactions that led to the development of sustainable finance on the local market. One such feat is the execution of the largest green bilateral loan in favor of Hidroelectrica SA equivalent to approx. EUR 257M , among other new firsts. A sizeable syndicated ESG loan of EUR 120M has been arranged for NEPI ROCKASTLE PLC, assuming an ESG structuring role. It meant also contributing to the first sustainability-linked bond launched on the local capital market for AUTONOM Services SA, for an amount of EUR 48M, again assuming the structuring bank role and advising on structuring the sustainability-linked framework. These transactions and others of smaller amounts, but of the same importance, are best practices in the local field of sustainable finance development. We are committed to accompany our clients in their journey to sustainable development and to help them implement strategies that are aligned with the global sustainability or climate change objectives, through innovative financing solutions.
If you were to pinpoint one area you think our country or region is in urgent need of investments, what would it be? And what is/are the runner-up/s?
With the current energy market situation and having in view the objectives Romania has to meet in the field of renewable energy (30.7% by 2030 or even 38%), that will require a massive investment estimated at approx. 6.9 GW new renewable capacities, the energy sector should be a priority. The energy sector represents 75% of the greenhouse gas emissions and is vital for all the other sectors to transition to a carbon neutral economy. The contemplated regulatory framework and legislation for promoting renewable energy development will be of a nature to assure meeting the country's objectives while also contributing to the green finance development.