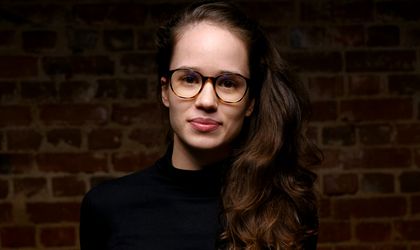 Currently a data scientist and a machine learning engineer, her professional experience spans multiple research labs: Microsoft Research, Swiss Federal Institute of Technology Lausanne and Osaka University, among others. She is passionate about learning how to build data products at scale and was part of UNFINISHED festival 2022. BR set down with Isabela Constantin and found out more about her professional journey so far, how a young Romanian girl succeeded in studying about Artificial Intelligence in The Netherlands, Japan, the UK and Switzerland, and many other inspiring aspects.
By Romanita Oprea
How did you discover your passion for data?
I always liked puzzles and data is sort of like a puzzle. The pieces are there, but you need to rearrange them and do all sorts of transformations to extract meaning.
How is knowing and understanding the data changing our lives for the better?
By discovering patterns regarding ourselves and tracking our goals. However, it is not a given – it depends on us to be intentional with extracting value from our own data. Phone Screen Time is an example of that: we could monitor it and make sure it aligns with how we want to spend our time online or we could just as well ignore it.
You studied AI in The Netherlands, Japan and the UK. How and why did you choose those countries?
Yes, and in Switzerland too! It was more of a choice of immediate environment: meaning lab, university and collaborators, rather than a choice of countries. I tried to make the choice that would maximize the learning experience for me.
Did you have any Romanian colleagues?
Yes, except for Japan where I did not.
What are the main differences you discovered in their AI approach?
Based on my own experience, I would say that the main difference is that in Japan AI has a face. Meaning that robots are much more present in the physical world and consequently there is more focus on building AI that is embedded in the physical reality.
What were the main 3 learnings from that period in your opinion and why?
It is tempting to fall in love with the problem and forget that you are trying to build a solution for someone. Therefore, I try to constantly bring the end-user in mind and to make sure I address their pain points. You don't want your solution to end up as a fancy technical report.
A diverse array of interests can be an asset, not a liability. During my studies I used to feel 'guilty' about pursuing many other interests in arts and humanities and not devoting all my learning time to science and engineering. I now embrace that in my professional journey, as it has trained me to look at things from multiple angles.
Intentionally seek people and situations that challenge you in a good way and from which you can learn. Moving countries almost forces you to do that, but it is not required and I strive to keep this mindset regardless.
How would you characterize the experience of meeting and learning from Hiroshi Ishiguro?
It was a very thought-provoking and enriching experience, both personally and professionally. I was inspired by the fact that in his work, he pushes the boundary of both science and philosophy, by asking the question: what does it mean to be a human and approaching it from both lenses. When working in his lab or reading about his work and that of his collaborators, you are bound to ask yourself big questions.
How did you choose your professional path?
I was set to pursue a Major in Philosophy, Politics and Economics until I discovered I, Robot by Isaac Asimov in my last year of highschool. It is a collection of short science fiction stories about a scientist recounting her work with robots. Then I decided to enroll for an Artificial Intelligence degree.
What would you say to people afraid that the advance of technology and the emphasis on collecting data will negatively impact their lives?
I would encourage them to replace fear with taking the matter into their own hands. While there is no bulletproof solution, I would suggest they go through the apps and platforms they use and replace them with more privacy focused alternatives and/or revisit their privacy settings.
What are your main professional goals and why?
To build exciting data products that are beneficial and are used at scale.
Do you want to live in Romania in the future or consider going abroad again? Why?
I enjoy living in Romania and I can see myself living and building here, at least in the foreseeable future. The data science landscape is less mature but that also makes it more exciting for me.
What advice would you give someone wanting to learn about AI and Machine Learning now?
I would advise them to study the fundamentals well: math and computer programming. I would also suggest they bring their passion to the table – the thing about AI/ML is that it can be applied to literally any domain, so one can get creative with the projects they undertake, which can make the learning journey so much more motivating.
What part does research play in creating a new machine-learning algorithm?
It depends on the context. If we are talking about the academic setting, where the goal would be to invent a new machine learning method/algorithm and ultimately publish a paper, then research plays a central role. In industry, the goal is solving a problem within some constraints. Research is definitely needed to survey existing literature and find suitable algorithms, but a lot of the time also goes into understanding the problem, the business context, the data and making sure your solution works at a large scale and in a production environment.
What will make us less vulnerable in front of the AI and why?
There are two types of vulnerability that come to mind. One is job security and, in that regard, adaptability and a mindset of continuous learning are key. The second one is our vulnerability in front of recommender systems, which are the algorithms feeding us the content/ads that we see when we log in on our media platforms. It is so easy to get caught in mindless scrolling, to end up in a filter bubble, to get polarized and so on. Therefore, I believe we should constantly practice some sort of digital mindfulness, critical thinking and self-awareness, both when we consume and produce content.
What does Off-Center mean to you?
It means creative, out of the box, multidisciplinary thinking.
How would you characterize your Unfinished experience?
Definitely Off-Center, if we stick to the meaning above. I really enjoyed the mix of conversations, workshops and performances in the Unfinished Festival and the way the whole program was designed. I was also very happy to take part in the conversation with Mario Vasilescu and Jerry Michalski, on the information crisis and tools for better thinking, and learn from their perspectives.