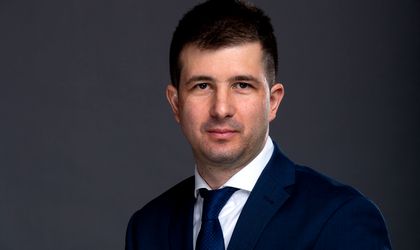 Ionut Gherle, the CEO of UCMS by AROBS, talked to Business Review about the company's biggest achievements in its 25 years of existence, and explained why digitalization became a necessity once the pandemic started.
By Anda Sebesi
UCMS by AROBS is celebrating 25 years on the Romanian market. What does this mean in terms of achievements and results?
Our company has undergone many changes during these 25 years, and it was constantly shaped and improved in order to meet our customers' sophisticated business demands. It started with the dp-Payroll application in 1996, which covered the basic needs of financial departments, followed by the development of True HR in 2002. In 2019, AROBS Transilvania Software acquired UCMS, thus adding a new business line on the HR solutions market. Our True HR and dp-Payroll software solutions are being used in more than 500 businesses. Over time, the reliability of the products have been improved continuously as to meet the needs of the industries we work with: banking, IT, medical services, automotive, production, retail, etc.
How important is the digitalization of HR departments and what can you tell us about your company's HR and payroll software solutions?
Digitalization has become critical for HR departments, as companies have faced novel situations where employees had to work remotely or in a hybrid manner. Our company offers comprehensive digital solutions for HR and payroll through True HR and dp-Payroll. True HR is one of the most complex and complete professional solutions for HR management in the country, designed to digitalize and transform the entire HR process, from recruitment to offboarding, including time & attendance data. The solution is always kept up to date with legislative changes, so all reporting to authorities can be carried out through the application.
What are the main advantages of the UCMS by AROBS software products on the local market?
True HR & dp-Payroll are innovative software solutions that have been recognised and implemented by both corporate and enterprise clients in Romania, to provide services internally and externally. True HR is the only Time Management and HR software product to be developed in Romania and successfully implemented outside the country's borders. The application covers the management of all business processes: recruitment, administration, evaluation and training. dp-Payroll simplifies and automates financial processes. We are supporting our global customers in standardising, centralising, and consolidating their HR operations in CEE.
How has the growth in remote work changed your target market?
Studies show that remote or hybrid work has led to increased employee productivity. More and more companies are looking for the best ways to make remote work as efficient as possible. Our solutions help optimise this type of work, and it works very well for companies that have adopted a hybrid work model. They were designed to streamline processes and save time for HR specialists, leading to better communication between employees and HR or between employees and management.
What are your plans for the coming years?
Over the next few years, we plan to invest heavily in technology, business verticals, product development and team growth. One key aim for the company is to further improve user experience for our products, enhance response times during implementation and applications through state-of-the-art technologies. The team's vision and efforts are aimed at a complete shift from traditional, manual HR procedures to automated digital processes.