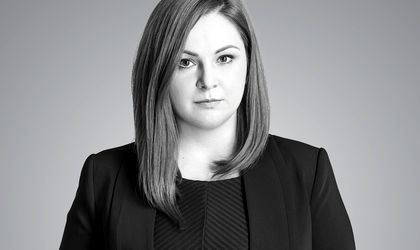 The last two years have been one of the most challenging ones in recent history, with companies having to adapt and be very resilient and strong in order to survive a never-before seen situation. With no means to compare it to anything else.  Still, 2021 proved to be good for the marcomm Romanian industry, for the companies that knew how to drive the trends and be flexible.   
 By Romanita Oprea 
BR talked with Ioana Mucenic, CEO at Minio Studio, about the latest challenges in the marcomm industry, how the agency keeps adapting to the new situations, the local advertising community, pitches and many more.  This is the first interview in a series of materials on the 2021-2022 topics.  
How would you describe the year 2021 for Minio Studio? 
2021 was a year when we slowed down to catch our breath. As 2020 was a very tensed year and we used so much energy to navigate the ever-changing context, we decided to have a quieter 2021. That doesn't mean that we did not work hard for our clients, but we had less development initiatives than we used to. We focused more on our team, keeping them together and actually caring for their physical and mental well-being.   
What were the most difficult aspects? What about the best ones? 
The year was just like a roller-coaster, with 1-2 months full of projects, and the following ones stagnant. Many clients decided to block or re-structure projects, in order to find the right balance of effort vs. results. At the same time, colleagues were tired and we needed to bring everyone together, to feel like a team again. 
We implemented a hybrid work system and we experimented about 5 different working formats, to see which suites us better. Also, we allowed our colleagues to work from anywhere and we even organized a WFA together, in Busteni. That was a lovely experiment of working together for a full week, away from our regular office and homes.   
What are the things you are most proud of? 
I am proud of our resilience and agility. Year after year, we manage to assess the context and we set out realistic objectives, as well as realistic implementation plans. We never stop working on our ambitions, no matter how difficult the context is. We keep on going, because we strongly believe in our mission – providing strategic creativity that makes a real impact, while also being a "happy agency" – a place where people enjoy working.   
How much time do you believe we will see the impact of the pandemic on the marcomm industry in Romania? 
As I am responding to this interview, pandemic looks like old-news, compared to the war in Ukraine. And I can already see some lessons learned. The response to crisis was better, faster – brands got involved in the very few days, they had adjusted their communication plan to be more sensitive to the context. Overall, the pandemic accelerated the digitalization, but also the humanization of brands. We see more and more brands acting with empathy and communicating more toward people, than to their pockets.  
Business-wise, this pandemic taught us to have grit and to find solutions no matter the situation. Looking if hindsight, pandemic tough us some lessons that would prove very useful in the new war-recession context.  
How do you see the local advertising right now? 
We can see brands and agencies making the effort to update communication to this new reality – the one where brands are part of the society, not just part of the economy. I can see buds of braveness – after a long period where communication was supposed to be "safe". As the context is more difficult, some brands realize they must take a stand, get a voice, own a new territory in communication and care more about their communities.   
In what type of pitches do you want to be invited in 2022 and why? 
We are a "creative problem-solvers" agency. We like complicated projects that have a real impact. Are you loosing market-share? Do you need to refresh your communication? Are you a brand in an innovator sector and don't find your voice? Do you need to restructure your portfolio and communicate coherently? Are you looking to engage your audiences more? Great! Call us.  
We are looking to take on challenges that get resolved though accurate strategy, plenty of creativity, business understanding and empathy. We handle integrated communication with grace and agility – strategy, creative, audio-video, digital, shopper, influencers, the channel is not relevant, what matter are the results. And this is our playfield.   
What do you believe to be the main trends for this year and why? 
Would I have respond just two weeks ago, my answer would have been different. I guess we will see a spring more toned-down. While business must go on as we need to keep the economy going, many companies feel the need to reduce the volume of their communication. On one hand, it is humanly natural to feel that your commercial message is not as important as the current Ukrainian crises. On the other hand, your campaign might get lost amid the war news, reducing its impact. However, brands need to communicate, so during summer I believe they will accelerate their efforts. 
Overall, we will see a pressure on budgets (that would manifest in less spectacular campaigns), an increase need for data (to back up or inspire decisions) and a fast increase of content creators.  
Name 2 myths that still hang around in the industry and they shouldn't? 
"It's just an idea" – of course, our work is way more complex than this.  
"I am not saying a budget, so I would not limit your creativity" – creativity does not depend on a budget, efficiency does.  
What is your goal for 2022 in terms of revenue, but also new clients, employees, etc? 
2022 is a crucial year for us and I wished it were a bit easier that it shows up to be. The core value in Minio is growth mindset – and we are planning to grow exponentially, by launching new services and new business lines. The seeds for these major developments are being planted this year. So, it will be a complicated year: managing a difficult context of day-to-day activities, while also preparing for the future.  
We are happy with the current team and we will be looking to expand it with external talent, in order to diversify our voices and creative expressions.  
In terms of clients, we are looking at a mix of establish and emergent brands, both in need of highly relevant and actual communication. So, we are open to pitches and getting to know more open-minded clients.  
However, our core services remain the strategic ones – building a creative strategy and implemented flawlessly across an array of channels.   
Where is the local industry still lacking and what can it be changed? 
We still have small budgets compared to the western countries, which limits our ability to innovate and to experiment. We are still looking at making a splash on the moment, rather than building for the future – sometimes, we focus on likes and reach more than actual behaviors and impact. We are still not brave enough to communicate with humor, to build characters, to assume a clear strategic position – we still want to be ok for everybody.  
How do you think about the creativity sector in Romania in 2022 and what do you think will happen in the future? 
I think we are on the right track; we are a mature market, so we have plenty of talent and many excellent leaders that will advance their field.   
How would you describe yourself as an advertising professional and entrepreneur? 
I have been an entrepreneur since the University, for 16 years now. I love this industry and the people that work in it and I keep on learning. I like the fact that we can truly have an impact – we can shape brands, businesses, industries and we are all the time in the forefront of society development. Myself? I still work hard; I am ambitious and I am open to everything new.