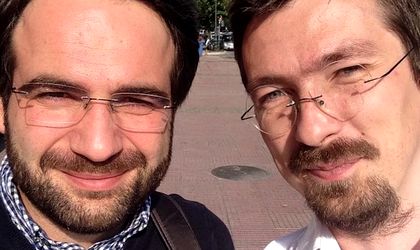 Paul Balogh and Cristian Dinu founded Learn Forward, a platform that enables the development of digital educational materials, or simply "digital textbooks". BR spoke to them to find out more about what the platform offers and how it can make classrooms more efficient and interactive.
Their company was originally called ReadForward and it was started in Romania, but in 2014 Paul and Cristian's innovative ideas obtained funding from a London business accelerator focused on education, so they moved their headquarters to the UK and rebranded as LearnForward.
LearnForward's digital textbooks are not simply electronic copies of the traditional textbooks we're all used to – they are collaborative, customizable and dynamic.
With the help of LearnForward, teachers are able to create original, up-to-date educational content that can really engage their students and lead the way towards a "digital classroom".
Briefly tell us about how you decided to develop your platform in Romania, and how you later got to London. Is it easier to be a business owner in the UK?
We decided to start a new company (Read Forward) back in 2012, when Romania was waking up to a post-crisis world. The purpose was to bridge the gap between modern technology (tablets, apps, smartphones, and smart real-time web tech) and traditional media such as books and educational content. This is how we got started, by creating the first book-apps in Romania, featured by Apple in their App Store.
We soon learned our lesson: we strived for highest product quality but in a market too small to ever make our business feasible. The company managed to survive, but it became clear that the way forward was to create products of our own (independent of existing content). One of those products took us to the UK where we moved our company.
And yes, running a company in the UK is a lot easier – you feel the British government is on your side, not fighting against you. Plus, it's an incredible network of investors, mentors, meet-ups, resources that allow you to thrive – if that's your thing, of course. It's not a universal recipe. But if you want your product or service to enter European or international markets, London is the place to be (or the US, of course).
Your digital textbooks are being used at the famous Eton school in the UK, as well as in schools in Germany or Luxembourg. How does your experience in these countries compare to the one in Romania, in terms of legislation, bureaucracy or the attitudes of those involved towards digital textbooks and the concept of collaborative education?
Your question already contains the answer. Schools here have a great degree of independence but they also struggle with reduced funding, lack of qualified personnel, and other shortages. But they are more open to trying out new things, the management usually understands how technology can help them and the air is more… breathable.
Romania has lots of good teachers but they are like isolated islands, and they should come together and form continents, otherwise they will not count as forces of change.
However, each country is different. Germany is super-obsessed with privacy, while UK is generally regarded as very progressive. Norway and other Nordic countries are way ahead of the rest of Europe when it comes to tech-enabled schools and are looking to make sense of centralised analytics. So there are very different speeds on the highway to understanding the role of tech in learning across Europe.
You have a new product called Hypersay, a tool for interactive presentations. How can it transform the classroom experience?
At its most basic level, Hypersay provides a new interactive layer over existing PowerPoint files (PowerPoint still is the common tech denominator for all teachers). Interactive here means that under each slide you can add quizzes, questions, videos, further reading (text & links), etc. And you can get all your students connected to your presentation (lesson, course, webinar) in real time.
At its most advanced level, Hypersay analyses data on the performance of your students and in time you will be able to identify why one student is consistently failing in Maths quizzes, for example. Or, if you are in school management, you will be able to see the top performing teachers based on the students' reactions and level of engagement.
"Romania has lots of good teachers but they are like isolated islands, and they should come together and form continents, otherwise they will not count as forces of change."
Romanian students are still taught to be passive, to keep their opinions to themselves and express themselves only when they have to, while teachers hold all the control. Would this dynamic radically change once digital textbooks are introduced? Do you think teachers are afraid of such change?
It's the old saying: a fool with a tool is still a fool. This, in our case, means that teachers can easily continue to ignore the benefits of digital textbooks. Digital learning is an enabler; its power is limited to the way it's being used. We've built the ability for students to ask questions through Hypersay, but the teacher can ignore the question wall if that's what they want.
Digital learning/teaching can give massive support to meaningful pedagogical change; this change is not imposed, but only supported and encouraged by technology.
Are you still hearing strong arguments in favour of traditional textbooks, besides the fact that they are (still) profitable? Do you think a major change is coming soon on this market that will make digital rise above print?
Educational publishers have finally admitted that they are ignoring digital learning at their own peril. There are signs in the market that some publishers have seen digital sales reach as much as 30% of the total revenue. Massive. Some are (rightfully) panicking.
The trick, however, is not to simply switch from paper to PDF formats. Paper textbooks will not become obsolete simply because someone will produce the digital version of the exact same content. Instead the "danger" (or opportunity) is in the dissolution of the textbook as a concept.
It's not "digital textbooks" that will destroy their paper counterparts, but instead it will be the myriad of apps and web-apps, and educational games, and short or long online courses, self-assessments, videos, etc.
We are not in a "giant kills giant" situation, but rather in a "many Lilliputians chip away at the giant" kind of situation. It's an image that most traditional educational publishers find hard to understand.
What specific legislative measures should be taken so that digital textbooks would be easier to introduce in Romania? Can you give us examples from other countries?
Schools should be allowed to choose whatever content works best in their context, within a certain budget. The Education Ministry should simply define some very broad criteria and give teachers the freedom to choose how to spend budgets for content & software. Open the gates to competition and quality will follow.
How do teachers who start using digital textbooks react? Are there some who do not agree?
Best feedback from a teacher: "I managed to wow". She is from Australia and she impressed a roomful of teachers when she presented modern teaching tools, and she used Hypersay to give her presentation. Wowing teachers: that's pretty hard.
Students are digital natives and they react like fish in the water. They immediately know what to do, how to take notes, how to connect, how to post a question. No learning curve there. Their enthusiasm is immediate and teachers notice a big change in how engaged they are. Hypersay works very well to increase student participation.
"The 'danger' (or opportunity) is in the dissolution of the textbook as a concept."
What kind of feedback or suggestions have you received from students who have worked with textbooks created on your platform?
A student from Eton College summarised this new world perfectly: "typing is faster than writing". This was his way of expressing frustration with the need to (still) write things down on paper. Typing is natural for students nowadays, and this is exactly what our tools bring into their lives.
Hypersay practically encourages students to use their devices in order to participate in the class, but at the same time everyone else is trying to make them give up their phones while they're at school. How do you respond to this contradiction?
It is indeed a problem. Fear and confusion is the norm when facing novelty and, in most cases, that is the "official" response. Our approach is very different: embrace students' attachment to their phones (the most intimate personal computer ever created). Bring learning to where they are, don't alienate them. This is why Hypersay encourages that all devices be used for teaching. Student may forget their computers at home, but they will never forget their smartphone. Use that!
Happily, some schools are slowly changing their policy towards "BYID": bring your own device.
What are your future plans in the school textbooks sector? Will you continue to fight for their introduction in the Romanian system, despite the bureaucratic hurdles and old-fashioned mindsets?
We will continue to support those progressive publishers and schools that want to use good technology in Romania. The world is changing and, even though it's not always obvious, Romania is changing too.
Our plan is to bring good classroom technology to all teachers in the world (we are already in 120 countries, 16,000 users and growing fast, as we enter our second year), but Romania will always stay close to our hearts. We are very happy to bring our expertise to the table. If only decision makers were to listen.