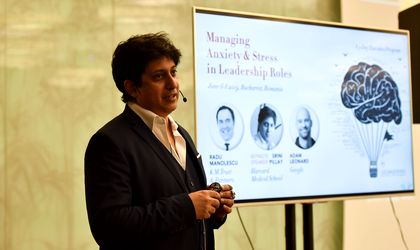 Srini Pillay, CEO & Founder of NeuroBusiness Group, will be a keynote speaker in both modules of K.M.Trust's upcoming executive education program: The Leader's Longevity, September 29-October 3, at the Count Mikes Estate in Zabola, Transylvania, and Managing Anxiety & Stress in Leadership Roles, October 4-6, in Bucharest. Business Review got the chance to have a quick Q&A with him, and literally pick the brain of the world-renowned brain science innovator in an exclusive interview.
Do leaders have the ability to leverage stress and anxiety levels of their teams, not only their own? If so, is this an ability that a person in an executive role might be able to train and develop?
Yes, to manage stress and anxiety, it helps to understand how they impact the brain. Extensive research now demonstrates that the brain can change, and we also know specifically how you can change brain blood flow using specific techniques for yourself and with others. In the program, we will focus on how stress and anxiety impact the brain, and what people can do to feel less anxious and worried and to boost their focus and productivity too.
Becoming a leader is one thing, but remaining a leader over a prolonged period of time is the real challenge for many executives. How can leaders retain their drive and achieve longevity in their roles?
Drive is not something to hold onto. It is something to discover and allow. The MIT-based leadership researcher Warren Bennis said, "Becoming a leader is synonymous with becoming yourself. It is precisely that simple, and it's also that difficult." The process of becoming one's self is a lifelong journey, as we are constantly changing. In this program, we will review how to access the "self" circuits in the brain to retain this drive. "Drive" or motivation, according to the most recent research, depends on three factors: Competence (Am I doing what I am best at?), Autonomy (Am I free to do my best?) and Social relations (Do I feel supported by my network?). Addressing these three factors is a good start to ensuring that one remains a motivated leader.
What is the most important skill a leader should have? Is it a natural skill some people are born with, or can it be trained?
There are many important skills that different leaders have—not just one skill. The key is to leverage one's strengths and minimize errors on account of one's weaknesses. Some skills that matter to the business as a whole include confidence (this actually impacts GDP), as well as clarity, unity and agility (all of which impact strategic speed.) Also, leaders who are in a state of "flow" have 500% more productivity. Understanding deeply how to build these skills will help any leader. Research now shows that both genetic and environmental influences impact whether a person is a leader or not. The good news is that this capacity can be built, and we now know some practical ways this can be done.