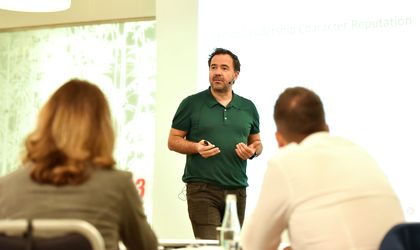 Business Review talked to Radu Manolescu, Co-Founder & Managing Partner at K.M.Trust & Partners, to find out more about the upcoming "The Leaders' Longevity" program, an executive development program aimed at creating the context and the awareness for improved leadership and quality of life with better health and increased longevity, where he will lead a module about addressing the self-judgement, self-awareness and 6 other leadership super-powers of today: Vitality, Presence, Adaptability, Flexibility, Possibility and Kindness.
How is K.M.Trust able to help companies live their values?
We had tried for some years the "direct" approach – be it in the executive recruitments we have performed by doing our best to recruit high character leaders, be it during the leadership development programs with the executive teams – be it with individuals in executive coaching. In all instances we have centered our actions on both Values Driven Leadership and on stakeholder value creation leadership including social impact.
Despite many local and HQ executives deeply agreeing they have created value when the displayed values and actual behaviors were aligned and destroyed value when they were not, the challenges in alignment have been related to the current economic model and mindset where purely financial driven institutional pressures, stock market pressures, low ESG weight in total business etc are often generating these imbalances.
It was a point in time we actually doubted we could live our mission but we struggled to find another way and I believe we found it: we aim to "update" the educational system and introduce SEEL (social-emotional and ethical learning) in schools at all levels starting with pre-k  in hope for kinder, more compassionate, more ethical, more responsible adults in 20-30 years, irrespective if they are doctors, professors, managers, workers etc.
And as we strongly support AVE Romania (www.ave-romania.ro) we supported the education related NGO partner with The Goldie Hawn Foundation, a partnership aiming to bring MindUp methodologies to schools, educators, families and children.  In a nutshell we initiated and helped this partnership happen and will support its scaling in Romania and beyond. This way, on a mid-long run we believe we have way better chances to have companies living their displayed values. And in the meantime, via our business we will work with the "current model" of adults in trying to be there for them in their journey to a better version.
What kind of impact can the program have on the professional, but also every day life of the people you work with?
Many of us have a strong self judge and some a very strong judge of others and/or of circumstances. These unwanted and prolonged emotions are poisonous for our minds, health and lives. Any strong imbalance we have is reflected in the quality of our lives and leadership.
As K.M.Trust & Partners' mission is to help companies live their values while having a memorable positive impact in the lives of the people we work with, and Srini and Uma's mission is about improving health and longevity, this executive development program  is about creating the context and the awareness for an improved leadership and quality of life with better health and increased longevity.
Thus, the module I will lead is about addressing the self-judgement, self awareness and 6 other leadership super-powers:Vitality, Presence, Adaptability, Flexibility, Possibility and Kindness.
The modules led by Uma Naidoo focus on:
Understanding the impact of the Gut-Brain Connection: Why the leader's mind is not separate from his or her body
Overview and the science behind foods that help attention, boost energy, improve vitality and enhance longevity
The modules led by Srini Pillay are designed to:
Understand how you can leverage your own brain and the brains of teams to enhance health, meaning and longevity
Incorporate brain-based frameworks with everyday challenges for individuals and teams to enhance business impact
In a nutshell, this program will provide insights and tools that leaders can use to optimize health, meaning and longevity for individuals and teams.
Here  there are more details available http://kmtrust.com/executiveeducation/leaders-longevity-2021/
This is the second edition of the program, what can you tell us about the results of the first edition, both for the Leaders' Longevity and the Managing Stress & Anxiety in Leadership Roles modules?
I was overwhelmed too about the feedback, energy and impact and I still am as we are in permanent contact with all participants.
Some of the metrics are here:
What is the ultimate mission of the K.M.Trust program?
To be of memorable support for each of the participants. Not just nice, not just helpful but a life changer in the good sense and an magical , one of a kind overall experience.
How important it is for leaders to provide positive impact in the lives of the people they work with?
Leaders in executive roles have a profound impact in their stakeholders' lives and in society. When we say "people they work with" we refer to all stakeholders as we do not believe in shareholder value only.
Profits are very important for the health and growth of any business and they are like oxygen for humans but we don't live to breathe…We (should) live to create real value and a positive impact on this planet.
More insights about my views on the subject here:  https://www.linkedin.com/pulse/search-meaning-radu-manolescu/
Without giving away the contents of the program, what are some of the key aspects of managing stress and anxiety in leadership roles?
We will connect calm and clarity with leadership, provide tools and methods to help people understand how to overcome stress, burnout, anxiety etc but most important, to have a memorable experience. Both Srini and Adam have their secret sauces about possibility thinking, flow and not only, ingredients that made the last edition we had simply amazing. Some testimonials here: https://www.youtube.com/watch?v=VXMxmxh04g4
People usually look up to leaders and think they are immune to anxiety, stress, burnout, etc. Is this misconception dangerous for people in leadership roles, especially when or if they buy into it and hide or ignore the signs and effects of those issues?
We are all people and have our vulnerabilities and "armors". We are living in times of high speed, lots of technology with both good and bad parts, of pandemics, of high stress and learning how to prevent or manage it is key.
Most leaders in executive roles hide their vulnerabilities well but they are there, part of our lives. Learning how to better accept and regulate emotions, increasing self-awareness, etc. are paramount for both our lives and for efficient leadership. And these programs are not about helping people manage better the appearances but about really helping them address these "live thieves" in an efficient and personalized manner in order to be sustainable.