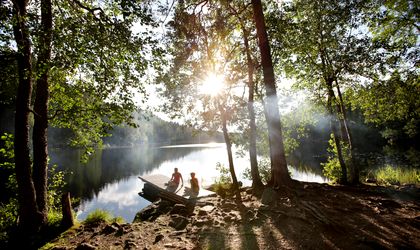 In March 2023, a stunning announcement echoed across the global media landscape, captivating hearts and minds alike—a free-of-charge Masterclass of Happiness in Finland, an initiative held by Visit Finland office. Business Review sought an audience with Heli Jimenez, the Senior Director of International Marketing & PR at Visit Finland to unravel the essence of this extraordinary campaign which convinced over 150.000 people around the world to apply for the opportunity.
Happiness, an elusive yet universal pursuit, holds immense importance in our well-being and overall quality of life. Learning how to cultivate and embrace happiness is a skill that can have a profound impact on our mental, emotional, and even physical health. It is a lifelong pursuit, an art to be mastered, and Finland, known for its emphasis on well-being, provides an ideal backdrop for this transformative experience. Finland, the reigning champion of happiness since 2018 according to the World Happiness Report, stands as a beacon of joy. Romania, in the 24th position, aspires to embrace the Finnish ethos of well-being and societal harmony. This contrast invites reflection on the factors that shape our pursuit of happiness, inspiring a shared journey towards a brighter world.
You recently launched Masterclass of Happiness for training people all around the world to learn how to be happy. How many people have applied? Are there applications from Romania? If so, can you tell the number?
The word about our upcoming masterclass spread like wildfire in both the press and on social media. The Masterclass of Happiness received over 150,000 applications from over 190 countries.
The attention the campaign received, and the number of applications exceeded all our expectations. Finland was selected the happiest country in the world for the sixth year in a row, and good news boosted the attention even more. Finland as a destination is attracting interest from around the world. Originally, we had 10 seats, but we decided to increase the number of visitors to 14.
How did you get the idea and the concept for Masterclass of Happiness?
In general, the world needs more happiness, and Finland, which has been chosen as the happiest country in the world 6 times in a row, has various elements to offer to increase happiness. We believe Finnish happiness stems from a close relationship with nature and a down-to-earth lifestyle. Happiness is not some mystical state, but a skill that can be learned and shared. Our idea is to help the participants find the Finnish state of mind from within and form a bond with nature.
What were the biggest challenges you faced for this campaign?
Visit Finland's mission is to promote Finnish tourism. Finland has been selected as the happiest nation in the world for five years in a row. We believe that the Finnish happiness is closely related to our connection with nature. With the help of our campaign, we want to highlight Finland's strengths and inspire people to travel to Finland. Our ultimate goal is to create awareness about Finland's unique qualities and advantages as a destination. Since masterclass turned out to receive huge worldwide attention, our biggest challenge so far was to carefully go through all the applications and make tough choices with selecting the participants – as there were so many great applications.
From an advertising point of view, what was the reach of the campaign? Can you give some extra information about it?
We think that in terms of the reach of this campaign the best and most effective indicator is the number of applications we've received and the number of countries across the globe applications have come from. Over 150 000 applications and 190 countries – we are very happy about this.
What's the most valuable takeaway from Masterclass of Happiness, for you?
We believe, that there are several essential keys to Finnish happiness: deep connection with surrounding nature throughout the whole life of a Finn, simple down-to-earth lifestyle, commitment to a sustainability in everyday life, design, and architecture, raising from the respect to nature, food from pure local ingredients , and naturally, sauna.
How did you choose the location of the masterclass? How important is nature in this process?
It was another tough choice to make, as there are plenty of stunning locations for such a masterclass across Finland. Nature was in very important role, of course. The Masterclass of Happiness will take place in the middle of beautiful Finnish nature in stunning Kuru. Kuru Resort is located in the middle of nature in Finnish Lakeland. Their luxurious villas are designed from the ground up with natural connections in mind. They are surrounded by fragrant pine forests and breath-taking lake views. Each villa also has its own spa and sauna.
Who are the four coaches selected to train the participants?
We have chosen inspiring individuals to create a high-quality Masterclass of Happiness. The coaches are chosen based on how well they represent the main elements and themes of the masterclass and can bring inspiring new angles to thinking. We will announce coaches profiles in June, right before the masterclass.  The themes are:Nature & Lifestyle, Health & Balance, Food & Wellbeing, Design & Everyday.
What are you expecting to happen after this masterclass for the participants?
We are offering a showcase experience, which reveals the secrets of Finnish happiness, originating in this case from Finland's nature, lifestyle and culture. So, ultimately, we hope that people will become happier around the world, in this case, by finding their inner Finn.
What are the key things to remember when trying to embrace the Finnish way of life and happiness?
Finns find their happiness in their everyday lifestyle, taking joy out of simple things – so in that sense, in sense of enjoying down-to-earth lifestyle, it contiributes to happiness. On a practical level, we recommend retreating to a cottage by the lake, enjoying the sauna and a dip in refreshing water. This would be one of the visualizations of Finnish happiness. More generally, connection with surrounding nature, simple lifestyle, sustainability in everyday life, pure local food are the key things in our opinion.
We have a lot of books regarding self-development and work-life balance in the Nordic way, which are popular in Romania as well. Which are top lectures on this topic, in your opinion?
There are surely a lot of great books on the subject hailing from Nordic countries, and we are happy to learn them being popular in Romania. Our personal current recommendation would naturally be to explore our upcoming online version of Masterclass of Happiness, which will be released this September.
Photos courtesy of Visit Finland