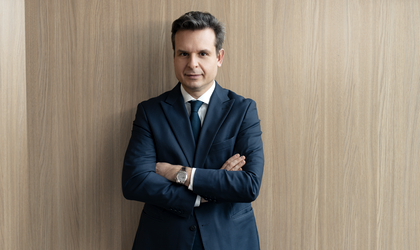 Investing in innovative technologies for buildings and boosting the sustainability of projects are priorities for Dimitris Raptis, the CEO of Globalworth Group. He spoke to Business Review about the company's office and logistics portfolio in Romania, which has grown to EUR 1.5 billion in value, and provided insight into the emerging opportunities offered by the local market.
By Ovidiu Posirca
Give us a snapshot of Globalworth's current operations.
We are active in Central and Eastern Europe (CEE), on the Polish and Romanian markets. Globalworth is the largest office investor and landlord in the broader region, with a portfolio of around EUR 3.1 billion across these two countries. We also have an exposure of around EUR 250 million on the Romanian logistics market.
What is the story behind Globalworth's success in Romania?
The company's history goes back to 2000, when the companies founded by Ioannis Papalekas were first launched in Romania and became a successful local real estate investment and development business.
After 2008, he remained in the country and continued his investment and asset management activities. The idea for Globalworth emerged in 2012, the year I joined the company myself.
In the previous real estate cycle, Ioannis Papalekas had focused more on private or joint venture-type investments; Globalworth would become an institutional investor, listed on the London Stock Exchange.
We have a very long history and a track record of success on our target markets, all started by the founder, who was joined by a very capable and loyal team who has worked to make Globalworth into what it is today.
What are the core pillars of the company's strategy?
In real estate, what matters most are a company's assets and the tenants it manages to attract to its projects. We have a very high-quality portfolio spread across the best areas in Bucharest, Warsaw, and other regional cities in Poland.
We have a great roster of tenants, most of them multinationals with medium- to long-term lease contracts. The company has adopted a 360-degree in-house management model, which means that almost all our operations are carried out internally. We are an institutional real estate investor and asset manager and we do everything related to Leasing, Asset, Property and Project/Development Management, Financing, Legal, Marketing, and Accounting. This has been a very powerful tool for us because it makes us very responsive to our tenants, which is something they have greatly appreciated over the years. Another core factor is the quality and strength of our team, which has grown to more than 240 people across both countries.
Globalworth's success also resides from its strong shareholder base, which has evolved over the years. Initially, the company was founder-centric, but over the years we've brought more institutional investors and shareholders. Today, the controlling stakes in
Globalworth are owned by three of the largest real estate investment companies in Europe and South Africa. Our shareholders are strong, stable, and they share the vision that Globalworth has held since its creation.
How has your Romanian portfolio developed over the years?
We started in 2013 and we've since developed a significant portfolio of assets in Bucharest. At that point, the market was at the start of its recovery phase after the global financial crisis. We were also able to purchase certain assets at good prices and investment yields, with a focus on offices.
In Romania, we've also developed our logistics operations, starting with in Timisoara, where we had our first logistics platform. We expanded to Bucharest and other urban hubs and we also have a major project next to the Constanta Port.
Today, we are the leading investor on the market, and we control up to 20 percent of the Class A office stock in Bucharest. The combined value of our office and logistics portfolio in Romania exceeds EUR 1.5 billion.
What are some similarities and differences between the Polish and Romanian markets?
They are both located in the same region, which means that they have experienced similar growth phases since coming out of communism. Both countries have young, well-educated, and dynamic workforces. Multinationals that want to invest in these markets can obtain a lot of support in terms of government grants and EU funds. Taxes are relatively low and stable, while wages are still below the ones paid by multinationals in Western Europe. These characteristics have enabled both countries to grow significantly over the past 25 years. In terms of differences, I would note that Poland is more advanced and more mature—of course, it joined the EU earlier. Poland has been better at absorbing EU infrastructure funds and deploying them across the country. The country's population is double that of Romania and its economy is bigger. In the real estate sector, Romania has around 3.5 million square metres on the office market, while in Poland this figure stands at around 11 million square metres. Furthermore, Poland also has strong regional cities like Krakow and Katowice, with populations over 1 million, while Romania has cities like Cluj and Timisoara, which are smaller and have populations of around 300,000 people, meaning that their development potential is not as significan.
How has this year been for Globalworth, in both Poland and Romania?
We have been through nearly 3 years of challenges, starting with the pandemic and continuing with the regional and global macroeconomic and geopolitical developments. Nevertheless, we have demonstrated resilience. Since the emergence of the pandemic, we have focused on the management of our existing assets, and we've been very careful about the investments we've made.
In terms of our latest operational results, we've had stable occupancy rates at around 89 percent, with small variations between the two countries, and a slight growth in our rental income as well.
What are your longer-term plans in Romania?
Our focus is on optimising the management of our existing portfolio with some selective investments, mainly in the logistics field. Though we have been growing exponentially since 2013, we have also been very prudent and disciplined in the way we deploy capital. If we come across opportunities to acquire assets at very attractive prices, we have the capital to carry out these transactions.
Globalworth recently got an EUR 85 million loan from the IFC for green projects. What is your approach to green financing?
This was not our first experience with green financing, as we had also done an issuance of green bonds a couple of years ago. This topic has gained relevance over the past few years, but it has become even more significant today due to the energy crisis all countries are facing.
These funds get redeployed to various green initiatives across our portfolio. Our focus is demonstrated by the fact that almost 95 percent of the assets in our portfolio are green certified. At this time, we are analysing our group carbon footprint and we aim to soon establish emission reduction targets in line with what EU regulators and others are recommending for companies like ours.
We are also analysing possible climate risks and opportunities of our company and assessing their impact on our business' operations and the overall value chain. This is important for our clients and investors as well.
What is your vision of real estate tech after having delivered the innovative Globalworth Square office building in Bucharest?
It is for sure the most technologically advanced building and most sustainable building in Romania. We have introduced pioneering solutions on the local market. This includes photovoltaic panels on the roof that produce 150 kilowatts of energy and a geothermal system on the foundation that covers both heating and cooling for 30 percent of the building's energy needs. We also operate an ice storage solution during the night, when electricity is cheaper, and it gets enabled in the morning to cool down the building during the hotter months.
Globalworth Square also has what's probably the most sophisticated building management system, wherein all different systems—from fire detection to energy consumption—are coordinated with an artificial intelligence overlay. This translates into lower energy bills and an improved tenant experience.