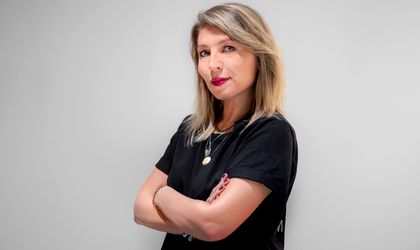 Ramona Bratu, Marketing Director at ALDA Romania, the company behind the SAGA Festival, sat down with Business Review to talk about the upcoming second edition of the festival and offer an overview of ALDA's other projects in Romania and all the backstage efforts involved in organising these events.
With the second edition of the SAGA Festival set for June 3-5, what are your thoughts about the experience of the first edition, its results, challenges, and the lessons you learned from it?
The first edition of SAGA was a long waiting game, due to the pandemic context. When we finally got the approval to organise the event, everything happened super quickly and we had to prepare all the festival communication with the new date and location in just around 3 weeks. How did I feel? I was glad that the wait was over and that we only had one chance to offer people the full SAGA experience as we had imagined it before the launch.
For me, the first edition of SAGA was a rollercoaster of emotions, a thrill that I hadn't felt for almost 2 years. It was the experience of a lifetime, channelling the entire team's thoughts and strengths into a single goal: to market a new and cool event in Romania and give life to a new brand.
There were lots of challenges, but fortunately they were accompanied by great outcomes: SAGA had great results in terms of awareness for a brand new festival. Over 40,000 happy festivalgoers per day and amazing reactions from both the people who attended and those who saw everything in the media and online, on social media, and wanted to be part of the movement this year.
One of the greatest lessons I've learned is that you can't build anything great without trust, in both yourself your team, and that you have to project your success.
The second edition is quickly approaching, so what can you tell us about the preparations, the concept, artists, venue, and any other aspects?
As you may already know, SAGA Festival has moved to a bigger location, in the middle of the city: the National Arena in Bucharest. This brings along many opportunities, but also requires bigger marketing efforts.
We are expecting over 50,000 people to come and enjoy the SAGA experience. There will be 10 stages and over 150 local and international artists. From a musical perspective, this year brings something new, namely a great collaboration with Bucharest-born music platforms—renowned clubs such as Expirat, Control, and many others. They will be present at the festival for their own audience and for all SAGA participants, coming from over 30 countries.
What does SAGA mean for Bucharest & Romania? What is new about it and what are the elements that make it stand out from the crowd of festivals that have appeared all over the country in recent years?
SAGA has some strengths which are different from what already existed on the Romanian market. The festival marked firsts in terms of music, as well as spectacular stages and activation points, in a rather arid location (at Romaero Baneasa last year), thus creating a meeting space for the new generation. From its very first edition, SAGA managed to reach a high-value status and became a super fresh festival in Romania, especially for the 18-25 age group. Our plan is for it to become the festival of the new Bucharest: the meeting place of the new generation, the movement that reminds you that all the resources are within all of us. If we sometimes do not see or find them, our old friends or the new ones, made at the festival, the SAGA community, can confirm that we are driven by the same values.
How do you see the return to normal after the pandemic in the events industry?
I think there is still a mix of shyness and desire in consumer behaviour­—and it's understandable. Things have changed, the decision to attend an event is now more likely to be taken at the last minute. From my point of view, there is no return to normal; you just have to learn to move forward and live life to the fullest as it is. That's why it's a marketer's job to adapt and change their perception.
After the second edition of SAGA, you will also organise the Sound of Bucharest event, Armin Van Buuren's biggest solo show in Europe, which will take place in Bucharest on September 24. What can you tell our readers about this project?
Sound of Bucharest is an event that will take place every year, starting with September 2022, and it will showcase a phenomenal production, in line with the consistent quality of events created by ALDA throughout the years. It also brings together the world's greatest DJs, such as Armin Van Buuren, who will come to Bucharest this year for an impressive solo show. This spectacular and unique show will be organised in Constitution Square, with a fabulous and innovative production.
This event will be broadcast live in over 100 countries, and we strongly believe that the Palace of Parliament is the best place to promote Bucharest, as it is an iconic place with a huge potential to attract visitors from abroad, now and in the future.
Earlier this spring, ALDA organised WE ARE ONE, the biggest charity event in Romania, in support of Ukrainian refugees. How did you manage to put it all together in such a short amount of time and how did you approach the marketing campaign and overall strategy behind this event?
For us, the WE ARE ONE event was the natural thing to do in a frozen time, from all points of view. Thinking back to that time, I once again realise that if you lack courage, you won't be able to move or change anything, neither in life nor in business. I am grateful for all that we have achieved, both in terms of funds raised as well as in terms of image.
Things were stagnating for many reasons, then the war came on top of it all, and since I just don't like to sit and wait, I spoke to my marketing team and the ALDA management team about what we could do to get involved in the way we knew best, by getting people together. The reason was very important: raising money for the war-torn Ukrainian people. I again discovered that Romanians are very emphatic people, who are ready to help out in any way they can. An important factor that helped the marketing campaign was something that initially looked like a threat: time. Time pressed us to move even faster and create a movement in Romania. It was like a wake-up call for the whole community: PRO TV and Kiss FM joined our initiative, and so did lots of other media channels—this way, we were inside people's minds within a very short time. The local and international artists added even more value and trust to this project, so all their communities combined created this snowball effect that in the end brought so much good in other people's lives.
What can you tell us about ALDA's other projects in Romania this year and about the company's future plans?
ALDA has great plans for Romania. We will develop new concepts and projects in the country, which we will be revealing in the coming period. One that we are really proud of will be Calvin Harris's exclusive show in Mamaia this summer. At SAGA Festival this year, ALDA will bring the global superstar to Romania for the first time. Calvin is one of the biggest DJs and producers in the world and we are honoured to have him here for a spectacular solo show.
To end on a personal note, what is your perception of the events industry in Romania and how would you describe your journey from being a marketing and events director in the radio industry to your current role in the events industry?
My professional development was entirely natural—I like to say that I experienced organic growth. With the radio team, I created many beautiful events, some for the first time in Romania. Although every event takes its toll on me, I am overwhelmed by the joy of meeting people face to face. That was the first sign that the events industry is where I belong, where I can learn more and make even more people happy through the concepts and experiences I create.
I have had the chance to be part of many successful projects in the Romanian events industry, which have brought me here, collaborating with an international events brand. All I want right now is for Romania to benefit from fresh know-how in terms of events, and being able to contribute to this with my knowledge is a professional and human achievement for me.